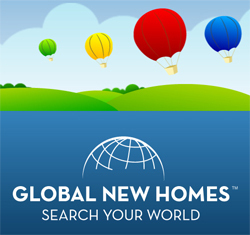 West Palm Beach, FL (PRWEB) October 5, 2009
GlobalNewHomes.com, the Web's largest free search directory of new real estate, announces its recent launch. Now, people can search for new developments and condos for sale on one comprehensive site. To celebrate its launch, Global New Homes is featuring a contest, with a grand prize of $1,000.
"We at Global New Homes are excited to launch our new real estate search directory. This directory provides all potential homebuyers with one comprehensive site to search new developments worldwide, all from the comfort of home," says Global New Homes.
Global New Homes is the largest worldwide database of new properties on the Web. The database is constantly edited and updated by dedicated staff to include only the newest real estate developments. The site also helps connect homebuyers with local businesses and real estate professionals, including brokers, agents and real estate attorneys.
To celebrate the launch of the site, Global New Homes is having a contest. There is a hidden property somewhere among the 22,000+ new properties across the world. Every day, Global New Homes will post a clue about the mysterious location on Twitter. The first five contestants to correctly identify the property will win $250, the next 5 will win $100. On November 5th, all correct entries will be entered into a drawing for $1000.
To get started with a worldwide search for new properties for sale, visit http://www.globalnewhomes.com.
# # #