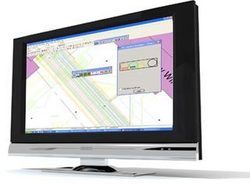 We're seeing multiple instances in telco and campus environments where it is critical to track conduits and the facilities that ride within them
Richmond, VA (Vocus) March 20, 2009
Mapcom Systems, developers of M4 Solutions, announces the release of M4 Conduit Manager, a new active conduit interface that links, reports and manages fiber and cables within conduit with the click of a button.
Dynamically linking fiber, coax and copper records, the M4 Conduit Manager interactively tracks the size, position, color and status of each duct within a conduit. The module is user-configurable and designed to replicate exactly what technicians will encounter when working with conduit in the field. Planners and other telecom users will be able to maximize available data found in existing records by monitoring ducts, creating cable-conduit relationships and creating usage reports for complete conduit management.
"We're seeing multiple instances in telco and campus environments where it is critical to track conduits and the facilities that ride within them," said John Granger, President of Mapcom Systems. "Calculating and analyzing duct and conduit fill rates in the M4 environment allows clients to successfully preview and plan the results of cable placement, preventing time and materials from being wasted in the field," he continued. "This new conduit management tool further enables our customers to enhance the accuracy of their records, save time and money and improve customer service."
A component of the M4 Solutions Software Suite, M4 Conduit Manager integrates with all M4 modules and is designed to integrate with customers' existing cable and conduit records.
About Mapcom Systems
Mapcom Systems is the developer of M4 Solutions – a map-based Geographical Operations System (GOS) software suite that allows telecommunications providers to enhance their information flow by displaying data in a geographic view. The open-system approach enables users to integrate and correlate data from existing billing, accounting, GPS tracking and network monitoring applications with a geographically-correct land base map of all network elements in M4. Since 1971, Mapcom has developed one of the strongest reputations in the industry working with independents, cooperatives, fiber communities, and campus telecommunications providers of all sizes across North America and the Caribbean. For more information, visit the Mapcom website at http://www.mapcom.com.
###