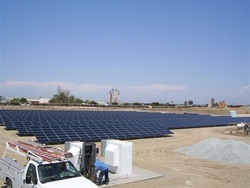 Russ Verdegaal and his team have demonstrated noteworthy efficiency in how they run their business
Hanford, CA (Vocus) October 22, 2009
Conergy has completed a 188 kW fixed-mount solar energy solution that will bring California's Central Valley-based Verdegaal Brothers, Inc. over $350,000 in tax incentives, cash rebates and accelerated market depreciation while saving the company an estimated $60,000 in annual energy costs.
The system solution, featuring First Solar thin film, was selected for its ability to optimize energy output in hot, dusty conditions while helping improve the environmental quality of the agricultural region in which it operates. It will offset Verdegaal Brothers' utility bills by 99% and meet 82% of the company's energy needs.
Conergy West Coast Development Manager David Vincent says the team was able to complete the one-acre project on time -- and within budget -- despite unanticipated construction challenges. "The land set aside for the project included an old settling pond whose soil was conditioned to act more like concrete than dirt," he said. "That nearly-impenetrable soil destroyed three 18-inch boring bits in the process of installing our solar racking. It delayed initial site work, but the Conergy team stayed on track and had this system up, interconnected and shaving thousands of dollars off the Verdegaal Brothers energy bills before the summer was through," Vincent added.
Verdegaal Brothers is a fertilizer formulator, warehousing, and soil and water amendment supplier that has been a part of the state's agricultural community for three generations.
According to Verdegaal Brothers, Inc. President Russ Verdegaal, efficiency is integrated into many aspects of the business. "Verdegaal Brothers has been supporting farmers who produce America's food and fiber with soil and water amendments to improve their crop yields for nearly 35 years," he said. "We purchased the solar energy system to meet our power needs in a way that improves our bottom line as well as the quality of the air, water and land in our community. We're encouraging others in the region to consider the benefits of solar for their businesses as well."
Conergy's Vincent says First Solar's thin film solutions are increasingly popular in climates like California's sun-drenched Central Valley because they perform in hot, dusty and low or diffused-light conditions.
"Because the efficiency of their semiconductor material is less susceptible to cell temperature increases, both lab and field results show First Solar's thin film solutions are capable of producing more electricity under high ambient temperatures. They also convert low and diffused light to electricity more efficiently. This is a benefit for Verdegaal in meeting its energy needs because surplus, peak-time energy produced by the Conergy system is credited back to Verdegaal's utility bill," noted Vincent.
California Governor Arnold Schwarzenegger recently signed legislation to further incent businesses and homeowners to invest in solar. AB 920 will require utilities to pay customers for surplus solar electricity fed into the grid. Before this, the state's net metering law allowed utility companies to receive surplus solar electricity from their customers for free.
Verdegaal Brothers, Inc. is located in a California-designated Enterprise Zone, which, pending interpretation from the Franchise Tax Board, would allow a tax credit for sales tax on the purchase of the solar array.
Improving efficiencies for agricultural suppliers indirectly touches businesses and families across the U.S. California is the #1 state in cash farm receipts(1) and produces about 50% of the nation's fruit, nuts and vegetables, according to the California Department of Food and Agriculture. Verdegaal Brothers is among a growing list of agricultural companies and farmers working with Conergy to embrace new incentives for going solar to cut operating costs and optimize their solar energy options.
"Russ Verdegaal and his team have demonstrated noteworthy efficiency in how they run their business," observed independent energy consultant and Conergy partner Damon Silva. "And when it comes to sharing the benefits of their new solar energy solution, they've been eminently-generous with their time, inviting farming friends and neighbors to visit the site, learn the benefits of solar and best practices. The Verdegaals are reinforcing that solar energy today is as smart a business decision as it is an environmental one," said Silva.
This Conergy-Verdegaal solar energy partnership reduces carbon emissions by 6,145 tons over the minimum estimated 25-year life of the system -- the environmental equivalent of eliminating nearly 20 million road miles from California's freeways.
Silva says the Verdegaals are proving to be exemplary environmental stewards not only via their clean energy choices, but with their prudent use of water in removing particles from their panels. They use a 500-gallon water trailer to efficiently wash the rows of their solar array. It only takes an hour, and cleaning those solar panels on a regular basis can increase energy output by up to ten percent.
"Today's emerging clean energy economy brings a bounty of incentives to stimulate installation of renewable, cost-cutting solar energy solutions for businesses across the board," noted Conergy's Vincent. "It's a solution that can be installed in a matter of months, however it yields a healthy ROI for decades to come."
About CONERGY:
Conergy designs, manufactures, installs and finances solar photovoltaic solutions for major commercial sectors, public agencies, businesses and homeowners through two distinct channels. Conergy's Projects Group focuses on custom solutions for large-scale, energy-intensive enterprises; Conergy's Distribution Group serves a U.S. network of installers, developers and dealers in the grid-tied and battery-based residential realm, while also addressing the needs of small commercial markets. With ten years' market expertise and 1,700 employees world-wide, Conergy has successfully sold or deployed projects totaling over 1.25 Gigawatts of renewable energy capacity around the world - nearly a full Gigawatt in innovative solar PV solutions. With operations in 14 countries over 4 continents, Conergy is helping drive the world's clean energy economy. Learn more at http://www.conergy.us.
About Verdegaal Brothers:
Verdegaal Brothers, Inc. is a Hanford, California-based, family-held fertilizer and soil amendment company that has been serving North American agricultural interests since 1975. Verdegaal Brothers warehouses various liquid and dry agricultural fertilizers for fertilizer manufacturers in the United States and Canada and for distribution to fertilizer dealers in California. Verdegaal Brothers also formulate and deliver their own patented urea-sulfuric acid fertilizers to dealers in seven Western states. Verdegaal Brothers pioneered development of a turnkey sulfuric acid injection system for the treatment of high pH and high bicarbonate irrigation water. Verdegaal Brothers owns and operates a fleet of semi and truck and trailer tankers to deliver product to their customers. The company also has a private railroad siding. Information is at http://www.verdegaalbrothers.com.
(1)Source: California Department of Food and Agricultural Web site. 2007 receipt data is most recent posted.
# # #