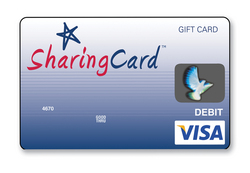 "Many people receive gift cards, use them once,forget about them, and the remaining balance. We took this behavior and transformed it into something positive for the community," Richard A. Elko, president and CEO
Philadelphia, PA (PRWEB) December 15, 2009
Conestoga Bank, http://www.conestogabank.com , ushers in the holiday season with the Sharing Card, an innovative patent-pending gift card that benefits charities with the donation of an unused gift card balance.
"The brain child of Conestoga Bank's creative team, the Sharing Card provides a philanthropic use for breakage -- the gift card balance that goes unused," said Richard A. Elko, Conestoga Bank president. Studies show that each year, billions of gift card dollars are unspent, generating hefty profits for businesses. "Many people receive gift cards, use them once and then forget about them and the remaining gift card balance is eventually depleted by fees imposed by the card issuers," said Mr. Elko president and chief executive officer. "Our creative team decided to take this behavior and transform it into positive action that would benefit the community. You can use the Sharing Card like any other Visa® gift card and after 18 months, any used balances are automatically donated to various charities."
The benefactor for the Sharing Card 2009 holiday season is The Children's Hospital of Philadelphia (CHOP). "We are delighted to be supporting CHOP, one of the leading pediatric hospitals and research facilities in the world," said Mr. Elko. "Youngsters are at the forefront of holiday celebrations, so it was natural for us to select a charity with an intense focus on children.
"We were thrilled to learn we would be the recipient of the proceeds from the Sharing Card for the 2009 holiday season," said Maureen Mason, Director of Cause Marketing, CHOP. "Thanks to Conestoga Bank's innovation and generosity, the Sharing Card will help us to continue promoting wellness and making a difference in the lives of the children and their families who rely on CHOP for life-saving care."
On December 1, 2009, Conestoga Bank is launching the Sharing Card at all 14 branch locations in the greater Philadelphia Area. Available in denominations from $25 to $750, the Sharing Card is accepted at any location where Visa® is accepted. "Gift cards are a great way to stay on budget during the holiday season," said Mr. Elko. "Industry statistics show they are increasingly popular each year. Customers who purchase Sharing Cards at our Conestoga Bank branches take care of holiday shopping, avoid the crowds at the mall, and resist the temptation to overspend."
Sharing Cards will be available for purchase throughout the year. "We envision the Sharing Card being the gift card of choice for every occasion," said Mr. Elko. Future plans for the Sharing Card include online purchasing and expanded charity options.
Conestoga Bank is a wholly-owned subsidiary of Conestoga Bancorp headquartered in Chester Springs, Pa. Conestoga Bank is a full-service financial institution, with 14 branches in Center City and South Philadelphia, Bucks, Chester, Delaware, and Montgomery counties. For more information, please visit http://www.conestogabank.com.
###