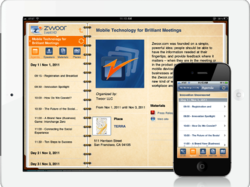 Zwoor.com provides to Conference and Tradeshow Meeting organizers an intuitive platform to manage event materials, speakers bio, event agenda and exhibitors event agenda and exhibitors profile, and share it on iPads, iPhone or Android mobile.
Washington, DC (PRWEB) May 31, 2012
Today, Zwoor.com launched a very special contest. Event planners can enter the email address, and the name of the event, for a chance to win a free event app.
The weekly winner will get a free Zwoor Event mobile app for a conference, event, or meeting. Here are the details: The winner will be announced on Zwoor.com each Sunday in June, starting with June 9th, via a random drawing… so enter now for a chance to win. And, enter early to have more chances to win. Enter now at http://www.zwoor.com/giveaway.
The [Zwoor Event mobile app puts all Conference or Tradeshow materials, including agenda, logistics, speaker bios, meeting materials at the attendees' fingertip, on their mobile device. Be that an iPad, iPhone, Kindle Fire or an Android tablet or phone, the content is available online or offline. Once the content is synched, all materials are contained on the tablet – no connection required, even in an airplane. Real time feedback and rating of the topic is included in each agenda item, allowing an attendee to provide instant comments directly from the mobile app. All the materials are easily uploaded by the Meeting Planner, or by the Speaker or Exhibitor directly, via a simple to use browser interface at Zwoor.com.
Attendees can also "follow" the speaker in Twitter or LinkedIn, signal their interest on participating on an agenda topic or visiting an exhibitor booth, tweet to the conference hash tag – all from within the mobile app. Native Twitter integration, and pre-filed hash tags makes it easy for attendees to share news on the event. A personalized calendar on the mobile app provides a clear journey for the conference events. And, for the Event planner, solid analytics on engagements and connections, and business opportunities created, are provided via the backend reporting.
Zwoor Event has several [security formats. A Conferences and Tradeshows materials intended to be shared publicly can be listed in the app as a public event, to be easily located by a user. For a Company or department meeting restricted to the company employees, or even a very private Event with highly restricted data, materials distribution is tightly controlled and uniquely identified.
"We are celebrating a significant milestone in our product, one hundred Events via our platform. Zwoor.com provides to Conference and Tradeshow Meeting organizers an intuitive platform to manage event materials, speakers bio, event agenda and exhibitors profile, and share it to attendees' mobile devices, be that iPads, iPhones or Android tablets. The mobile app provides an easy way to connect speakers and exhibitors to attendees, and attendees to attendees, in real time, during the event meetings, all via mobile devices, for an engaged conference and lasting connections. Paperless, real-time, engaged, efficient ." said Ken Burns, External Relations, Zwoor.com.
For more sophisticated surveys of the audience, the [Zwoor Survey app allows the creation and distribution of surveys, online or offline. The library of templates speeds up the creation of high quality surveys, be that for capturing intent to buy during product demos, or customer satisfaction in a trade show, conference or department meeting. Real time results sharing creates dialog, and increases the relevancy of the conversation.
Both Zwoor Event and Zwoor Survey have free versions available, and are available for the iPhone, iTouch, iPad and the Android devices. For more information, visit Zwoor.com.
About Zwoor.com
Zwoor.com was founded on a simple, powerful idea: people should be able to have the information needed at their fingertips, and provide feedback where it matters – when they are in the meeting or in the product presentation, with their mobile devices. We want to reinvent what businesses and individuals can do through the Zwoor.com mobile platform, made for a new kind of worker, a new kind of workplace and a new kind of interactions.
Learn more about Zwoor.com, how we're changing the way people consume information, interact, provide feedback and communicate and how you can be a part of it.