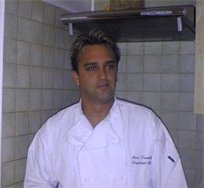 Here at Lane End we always look for ways to improve the customer experience. We believe Steve's strong culinary experience and education will contribute to our culture of continual improvement
Lane End, Buckinghamshire (PRWEB) September 15, 2011
Chef to the celebrities Steve Tremblay has joined the team at Lane End to further enhance the dining experience at its high quality conference facilities.
Steve has been Head Chef at many of Simon Cowell's private events and will continue to work with the X Factor and Britain's Got Talent star in the future.
Michelin-starred chef Steve is no stranger to catering for the stars and frequently gets his VIP gigs through recommendation following his work with Simon Cowell.
During his career, Steve has achieved three Michelin stars and four red rosettes.
As the new Executive Head Chef at Lane End, he will be responsible for providing the highest levels of cuisine to delegates at the Buckinghamshire meeting facilities.
Steve will head a busy operation comprising three kitchens, three dining rooms and up to four further dining areas.
He will be managing the team of six chefs and will soon be launching a range of exciting new menus.
Steve chose Lane End Conference Centre because of its strong international reputation.
"The opportunity to join such a well established facility as Lane End Conference Centre was certainly an attractive prospect," said Steve.
"I have long been aware of Lane End's long-standing reputation of producing good quality catering to its strong customer base, something I not only want to uphold but which I would like to improve on."
Operations Director Mike Gough said: "Here at Lane End we always look for ways to improve the customer experience.
"We believe Steve's strong culinary experience and education will contribute to our culture of continual improvement," he added.
Lane End Conference Centre is set in 26 acres of stunning Chilterns countryside just an hour's drive from the centre of London.
Its proximity to the capital and its fast connections via the M4, M40 and M25 motorways make it a popular business meeting venue for major corporations in the City.
Heathrow Airport is just over 30 minutes' drive from Lane End, giving international delegates fast and easy access to its conference facilities.
Purpose-built as a residential conference venue, Buckinghamshire based Lane End offers a range of facilities that include:

104 bedrooms
34 meeting rooms
four lounge and bar areas
dining rooms
a games room with a lounge and bar
various leisure and fitness rooms.
Unlike other conference centres, Lane End's conference facilities are split between five completely self-contained buildings: Wycombe Hall; Wycombe Court; the newly refurbished Wycombe Lodge; The Quadrangle and The Pavilion.
This means that companies and organisations booking conference meeting rooms can have an entire building to themselves, ensuring complete privacy.
Lane End is also sought after as a management training centre, thanks to regular and increasing investment in its facilities which now include the only Experiential Learning Centre in the London area.
But it is not just the business delegates at Lane End international conference centre that will be toasting the arrival of Steve Tremblay.
As well as being a leading edge conference venue, Lane End is also a highly prestigious wedding venue – so now brides and grooms marrying at Lane End can look forward to a team led by Simon Cowell's Head Chef masterminding the catering at their reception.
Lane End Conference Centre has been independently owned throughout its 40-year history and remains committed to independence to ensure the continuing enhancement of its high quality service and facilities.
Lane End Conference Centre is a member of the Meetings Industry Association, the UK and Ireland's leading organisation for conference venues.
For further information about the conference facilities at Lane End, please contact Sales and Marketing Manager Heni Fourie, telephone +44 (0)845 521 3013.
Notes for Editors
http://www.lane-end-conferences.co.uk
Lane End Conference Centre
Church Road
Lane End
Buckinghamshire
HP14 3HH
United Kingdom
Web: http://www.lane-end-conferences.co.uk
Email: info(at)lane-end-conferences.co.uk
Tel: +44 (0)845 521 3013
Lane End Conference Centre offers state of the art residential conference facilities, set in 26 acres of beautiful Chilterns countryside just 30 miles from London.
Delegates enjoy hi-tech conference facilities, ample free parking and free broadband access on-site – all within swift and easy reach of the capital.
Lane End Conference Centre has 104 bedrooms, 34 meeting rooms, four lounge and bar areas, dining rooms, a games room with a lounge and bar, plus plenty of fitness and leisure facilities.
###