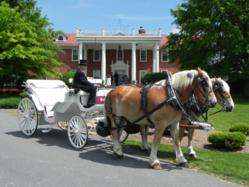 The golf courses are spectacular. But, there is so much more to Shenvalee. Most of our first-time guests and even local residents from neighboring communities don't realize that we also have conference facilities that can serve over a hundred people.
New Market, VA (PRWEB) May 31, 2013
Shenvalee Golf Resort has been continuously serving the public since its opening in 1927. The resort offers 27 holes of mountain-view golf featuring 3 very unique 9-hole courses. "Shenvalee has always been known for our golf getaways," said Karl Doller, Operations Manager at Shenvalee Golf Resort. "Our motel, challenging golf courses, top-notch dining facilities and most of all southern hospitality make us attractive to anyone looking for a relaxing golf package, so it's what we've always provided."
Doller has been working at Shenvalee for over four years and during his time there has met golfers from all over the USA and Canada. "We love our golfing guests," said Doller. "Our facility is so unique, and the golf courses are spectacular. But there is so much more to Shenvalee. Most of our first-time guests and even local residents from neighboring communities don't realize that we also have conference facilities that can serve over a hundred people. We can host weddings, business retreats, events, shows, family reunions, private parties and the list goes on. We even just hired a new food and beverage manager to help promote this aspect of our business."
Shenvalee has six different conference room facilities. The smallest is a board room designed for business leaders or groups of 10 to 12 to have an off-property meeting or retreat that can also be catered. The largest room can be used for a family reunion, business conference, private party or small wedding. The building layout allows several of the rooms to be opened together, where the entire facility accommodates larger wedding receptions or a major event or show. Food or drinks can be included with any function as Shenvalee has a full menu restaurant and lounge on site. There is also wireless internet throughout the resort, and each conference room has modern, large flat screen televisions for those needing technology provided.
Shenvalee has a 42 unit motel complex; 2 buildings, one with a pool-side view and one with a golf course view allowing conference guests to stay overnight. Most of the rooms have flat screen TVs, and all have cable, free wi-fi and access to all of the resort amenities. Some rooms sleep 4 guests and some are for only 2. There is also the Fairway House, which is a private vacation rental house on the golf course with an open deck, full kitchen and beds for up to 12 guests, perfect for a bridal party.
Shenvalee also offers two dining options. The original, main lodge has a restaurant that serves breakfast seasonally, and it can be utilized for private parties and groups. There is also the popular Shenvalee Sports Lounge. The lounge serves breakfast, lunch and dinner and has a daily happy hour with food specials. The Lounge is a very relaxed environment that serves food from its full menu and is of course, sports themed with a variety of flat screen televisions. The glassed in dining area overlooks the Shenvalee golf course and Shenandoah Valley's mountains, proving to be a popular hang-out after a long day in the board room. Guests love the fact that everything they need is in one place.
Shenvalee amenities include an outdoor swimming pool, driving range, practice green, pro shop with equipment and apparel and 27 holes of spectacular, challenging golf. Shenvalee is minutes from numerous area attractions including gift shops, antiques, museums, battlefields, wineries, caverns and many scenic drives such as Skyline Drive, Shenandoah National Park and George Washington National Forest.
"We just hosted the most beautiful wedding," said Doller. "The event was outdoors in front of our historic lodge with mountain views everywhere you looked. There was a horse-drawn carriage that the bride and groom shared after the ceremony. The reception was held indoors into the evening with food, dancing and all the festivities. Our staff was so pleased to be part of such a memorable day." When asking Doller about other groups planned, he said, "Well…. I can't reveal the name yet, but it looks like we are going to be hosting a show this winter – a first of its kind for Shenvalee – that I know many people in the Shenandoah Valley will want to come see."
The Shenandoah Valley offers many choices for conferences or banquets. There are few however that offers such a variety of solutions all in one place. It's less than 2 hours from both the DC and Richmond metro areas and is less than a mile from Interstate 81. It's easy to access and has all the facilities necessary to provide a worthwhile event. To learn more about Shenvalee Golf Resort, its golf packages or the conference facilities visit their website http://www.shenvalee.com.