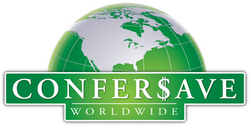 "Our advisory services will result in significant enterprise-wide cost reductions, increased turn around time [read: faster time to market], which is one of the biggest hidden costs, improved quality and increased profits from international revenue."
Wayne, NJ (PRWEB) November 1, 2010
Going to market with translated versions of your product not only appeals to your customers who don't speak English, it also increases your competitive advantage, helps grow market share and increases overall revenue and profitability.
Corporations spend millions of dollars annually to support product localization, content translation and brand management across the global enterprise. Many companies with "mature" globalization processes in place may be missing the boat on advances in technologies and best practices in the translation industry that have completely changed the landscape of —"what's possible today that wasn't possible only a few years ago". ConferSave's Translation division has established special advisory services to help companies regain control of their multilingual customer requirements: global branding, product localization and content translation.
According to Chuck Seergy, President and CEO of ConferSave "Our advisory services will result in significant enterprise-wide cost reductions, increased turn around time [read: faster time to market], which is one of the biggest hidden costs, improved quality and increased profits from international revenue."
By adding Translation Services to their product line which includes automated toll-free conferencing, operator assisted and Event Conferencing and a dynamic web and video conferencing platform, ConferSave has positioned itself as your partner in all of your Global Communications needs.
ConferSave is one of the fastest growing privately owned conference call service providers in America. They owe their success to providing superior quality service at incredibly low prices. Some of ConferSave's satisfied customers are Oppenheimer Capital, Nissan Motor Company and Seiko Corporation of America. ConferSave's management has over 20 years experience and is committed to providing the highest level of personal service and customer satisfaction that has made them a success in this competitive business.
ConferSave Conference Call Services, 1501 Hamburg Turnpike, Wayne, New Jersey 07470, 877-444-8535; Fax: 973-694-3148; http://www.confersave.com
# # #