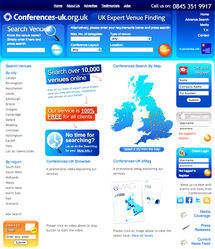 Already Google's highest ranked conference venue finding service, www.conferences-uk.org.uk has been upgraded specifically to support busy conference bookers.
(PRWeb UK) October 20, 2010
Constantly at the fore of venue search technology, Conferences-UK.org.uk - the UK's leading online venue finding service from ConferencesGroup - has revitalised its' already popular website with a striking new look, a clear and concise layout, and advanced search options, making the search for the perfect venue easier than ever before
Already Google's highest ranked conference venue finding service, http://www.conferences-uk.org.uk has been upgraded specifically to support busy conference bookers. The revamped site is clearly mapped out with simple navigation providing visitors with seamless access to over 10,000 UK conference venues and an impressive 12,500 international venues.
Offering speed and efficiency, visitors can simply type in the name of the venue they are looking for, which will return instant results. Alternatively, in four easy steps, conference bookers can select their preferred number of delegates, the type of venue, favoured conference layout and ideal location. Thanks to an advanced venue search algorithm, the returned results will be based entirely on the user's search criteria and listed in order of suitability. This extremely useful ranking system considers several factors, including services, facilities, bookings, client feedback, as well as the professional ratings of Conferences-UK.org.uk's own expert team.
Mirroring the efficiency of Google, a predictive search feature has also been incorporated to save conference bookers valuable time. Users simply start typing their city of choice and suggested cities are offered based on the letters typed, along with a list of all venues within that location.
Making it even easier to choose between venues, a convenient new 'Compare Venue' tab allows users to create a quick list of their preferred venues. Visitors can refer to their saved list at any time and compare the full facilities of their top four venues to help them select the perfect location.
Eliminating the need to re-search for preferred venues, both account and non-account holders can save previously searched venues saving time on a return visit to the website.
Giving customers a greater insight to the venues' facilities, hundreds of promotional videos have been added to the new-look site. The videos provide conference bookers with a walk through of the venues, whilst a venue representative provides an overview of the available facilities and discusses the various meetings, conferences and events that have been held at their location previously. These highly useful videos allow venue bookers to see first hand what to expect without having to take time out of their busy schedules for a reconnaissance.
Simon Thompson, MD of ConferencesGroup, comments: "We are extremely proud of the revamped Conferences-UK.org.uk website. Not only is it much cleaner and easier to navigate but the introduction of advanced search facilities teamed with the ability to compare venues and refer to saved venues at any time, makes the hunt for the perfect venue effortless.
"We continuously strive to provide customers with a second-to-none venue finding service. We understand that conference bookers are often time poor and in understanding our customers we have evolved http://www.conferences-uk.org.uk to provide quick and efficient access to a wealth of leading venues.
"We are committed to saving our customers time and money by delivering an advanced and unrivalled venue finding service."
The new services and facilities have been carefully planned with a team of top developers to refresh the Conferences-UK.org.uk website and bring it in line with the group identity set by ConferencesGroup.
In continued support of its customers, fantastic venue offers are communicated more effectively thanks to a new subscriber email function. Relevant deals are sent to subscribers on a regular basis to help them get the best deal around.
The venues featured on http://www.conferences-uk.org.uk, which currently receives over 200,000 unique users per month, will also benefit from the improved service. There is the opportunity to become Premium Partners, which secures venues a top rank on search listings and a link down the right hand side of the page. Unlike other search engines, all the Premium Partners will receive equal weighting and time in the prime position.
For further editorial information or to request hi-res images, please contact Jaime Markey @ JAMpr Ltd:
Tel: 0161 850 0565
Fax: 0161 236 3700
E: jaime(at)jampr(dot)co(dot)uk
Notes to editors:
Conferences Group http://www.conferencesgroup.com comprises of three market leading websites:
http://www.conferences-uk.org.uk and http://www.conferencevenues.com, both free Venue Finding Services aimed at conference organisers and meeting planners, allowing them to access one central database to find venues that match their conferencing and venue requirements.
CorporateDesk http://www.corporatedesk.com provides companies and organisations with access to over 125,000 hotels worldwide, which are all available to book online in real time. It also logs and manages all expenses to save time.
With offices in London and Manchester, it prides itself on being the only searchable databases for individual conference rooms/suites and has around 5,500 conference venues listed in the UK, and over 10,500 Worldwide. It offers a personalised service and has a dedicated team of account managers as well as a vast network of venue contacts to secure competitive rates for conferences, meetings and events.
###