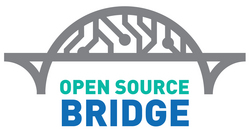 It's great to have a conference in the Pacific Northwest that is both filled with interesting content and incredibly accessible to the open source community
Portland, OR (PRWEB) April 23, 2009
Open Source Bridge, a new conference designed to increase collaboration in the open source development community across a broad range of disciplines, announced today its confirmed list of speakers, featuring topics that range from the Linux kernel to Configuration Management to MySQL to the Android mobile platform and everything in between. In addition to insights surrounding open source technologies, Open Source Bridge attendees will engage in discussions about the culture and practice of open source and the many ways it is being applied in commercial and nonprofit organizations.
The final talks were selected from more than 260 submissions. Proposals were evaluated on a combination of factors that included the strength of the summary, the accessibility of the subject matter, and guidance from the open source community which submitted more than 400 comments on the proposals. Among the confirmed speakers are well-known open source advocates like Brian Aker on Drizzle, Brian Ford on Ruby and RubySpec, Sara Ford on CodePlex, the GitHub team on "bootstrapping your open source business," Bob Ippolito on ACID RDBMS, Emma McGrattan on asking for "forgiveness not permission," Chris Messina on "social network supermarkets and how to defeat them," Evan Prodromou on open source microblogging, and Allison Randal on Parrot. The complete list of confirmed speakers can be found at http://opensourcebridge.org/blog/open-source-bridge-conference-confirmed-speakers.
"It's great to have a conference in the Pacific Northwest that is both filled with interesting content and incredibly accessible to the open source community," said Aker. "I'm really looking forward to the conference, seeing Portland, and spending some time in the hallway track."
True to its open source roots, Open Source Bridge planners ensured that even those speakers that didn't make the cut--but that have a popular following--still have the potential to present to attendees. The last day of the conference will be an "unconference" format, a freeform event that allows conference participants to propose their own sessions, independent of the organizers.
Name-brand sponsors contribute support
A number of companies who recognize the value of the open source community and its potential have already stepped forward to support the event. Those companies include the Yahoo! Developer Network, Network Redux, Mozilla, Google, WebTrends, and Portland-based co-working space CubeSpace.
Given the volunteer-run nature of the event, all sponsorship money goes toward the actual expenses of the event, enabling the volunteer staff to support the conference and attract a wide range of participants from across the country.
Companies interested in sponsoring the event can access more information and a sponsor prospectus at http://opensourcebridge.org/sponsors/.
Participating in the conference
Attendees may register for the conference by visiting http://opensourcebridge.org/attend/. The three-day conference costs $250 per attendee. Student passes are available for $99. Hotel accommodations for the event are provided by the Portland Hilton & Towers starting at $139/night. Hotel residents also gain access to a dedicated "hacker lounge"--which sits atop the Hilton Portland & Executive Tower--that will be open 24-hours a day and stocked with refreshments throughout the conference.
About Open Source Bridge
Open Source Bridge is a completely volunteer-run conference for open source citizens held June 17-19 in Portland, Oregon. Focused on developers working with open source technologies, the event features five tracks and a 24-hour hacker lounge designed to help people connect across projects, languages, and backgrounds to explore how those developers approach their work, and why they participate in open source. The conference structure is designed to provide developers with an opportunity to learn from people with whom they might not connect at other events. For more information visit, http://opensourcebridge.org or follow Open Source Bridge on Twitter at http://twitter.com/osbridge.
###