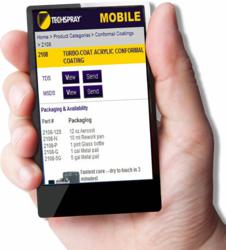 Now engineers looking for technical data on defluxers, degreasers, conformal coatings, soldering tips, and other Techspray & Plato products have a powerful new tool literally in their pocket!
Amarillo, TX (PRWEB) November 02, 2011
Techspray has introduced a new mobile site to provide engineers lightning fast access to Techspray's product information anywhere, anytime. The mobile site is ideal for engineers and users searching for information on defluxers, degreasers, conformal coatings, duster, desoldering braid, soldering tips, and many other products.
The goal is to make technical specifications, instructions, and material safety data sheets (MSDS) as accessible as possible. The mobile site uses the same database backbone as Techspray's website, so it is guaranteed to be the most up-to-date information available.
You now have a Techspray technician in your pocket 24/7.
Other features & benefits of Techspray Mobile...

Intuitive menu interface that's optimized for smart phones
Keyword search, even for cross-reference look-up
Product page gives option of viewing or e-mailing TDS (tech data sheets) or MSDS.
The mobile site has been tested with iPhone, Droid, Blackberry, and other major mobile phone systems.
The full Techspray website is available for use with a computer or pad, where you have a larger screen. That site provides additional sales support like presentations, document libraries, distributor look-up, and rep look-up.
Techspray, a division of Illinois Tool Works (ITW), is a leading manufacturer of chemical products for the electronics industry. Techspray formulates, blends, and packages a wide variety of chemicals and assorted support products for the electronics industry, heavy industry, and plant and equipment maintenance including degreasers, defluxers, conformal coating, dusters and water-based cleaners.
###