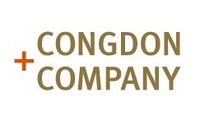 We are thrilled to add a person with such expertise and record of success at building companies and building brands to the Firm. Mr. Van Deusen's experience on both the client-side and the service-side of the industry and his skill at leading domestic and global businesses will provide our clients with unique insights and innovative ideas to drive their business results
GREENWICH, Conn. (PRWEB) August 12, 2008
"We are thrilled to add a person with such expertise and record of success at building companies and building brands to the Firm. Mr. Van Deusen's experience on both the client-side and the service-side of the industry and his skill at leading domestic and global businesses will provide our clients with unique insights and innovative ideas to drive their business results," said Principal and Founder Arthur Congdon. "His experience in consumer package goods, medical devices, and pharmaceuticals aligns with many of the important growth segments that contributed to our recent 50%+ increase in revenue."
Most recently, Mr. Van Deusen was Corporate Vice President and Worldwide Head of Medical Communications at PAREXEL, with responsibility for four global operating units serving the bio/pharmaceutical industry. Earlier, he was a founder of two healthcare communications agencies for Publicis, one of the world's largest healthcare agency groups. Mr. Van Deusen also has 15 years of client-side experience that included general management in the medical device division of Bausch & Lomb and brand management positions with SmithKline Beecham and Procter & Gamble. "I am delighted to join the talented, passionate team of professionals at Congdon + Company," said Mr. Van Deusen. "The Firm's long history of balancing strategy with creativity and delivering big ideas with exceptional customer service is very exciting to me and provides a powerful culture for continued growth."
"As companies scrutinize ways to garner the full potential of their existing and emerging assets, there is a trend to reexamine how well existing corporate and brand images support overall business strategies," said Mr. Van Deusen. "The opportunity to positively impact the financial performance of a business through stronger brand strategy and design has never been more crucial than in today's economic environment."
"Congdon + Company has successfully grown over 25 years by staying focused on a passion for brand strategy and design and by continually exceeding expectations with big ideas, keen insights, and extraordinary execution. These principles will continue to drive our future growth," said Mr. Congdon.
About Congdon + Company
Congdon + Company is a pure play brand strategy and design firm focused on the creation, design, and implementation of effective branding programs and communication materials. The Firm combines solid strategic thinking with inspired creativity, technical skill, and common sense to benefit clients and their businesses. Services include strategic brand guidance, brand naming, brand identity, logo development, and package design. Congdon + Company is an independent business located in Greenwich, CT and works in industries as diverse as healthcare, financial services, consumer package goods, electronics, pharmaceuticals, energy, food, and telecommunications. For more information, visit http://www.congdonco.com.