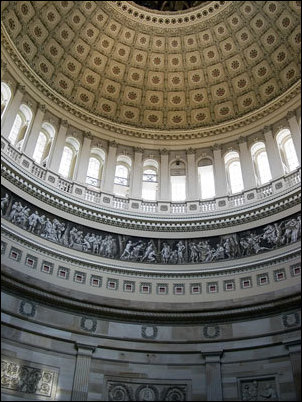 I think this will add a healthy amount of transparency to how Congress spends taxpayer dollars
Washington, DC (PRWEB) September 18, 2006
How the US Congress spends its money on its staff is now available for the first time on a new web site.
LegiStorm.com, which launches today, provides users with a free and easy way to determine exactly how much members of Congress pay their aides.
"I think this will add a healthy amount of transparency to how Congress spends taxpayer dollars," said Jock Friedly, a former Capitol Hill investigative reporter who founded LegiStorm.
"Most salaries are paid to highly educated aides who perform long hours of service to their country," he said. "But occasionally, members of Congress illegally pack their official payroll with ghost employees or campaign workers. In one famous case, a powerful member of Congress even met his political demise by hiring a secretary whose true talents were in the bedroom, not at the typewriter."
LegiStorm.com now provides citizens with a way to monitor how their elected leaders spend money on congressional staff salaries.
The site collects its data from the official record books published by the US Senate and the US House of Representatives. However, these books are not easily accessible, usually requiring a trip to Washington or a government documents library.
LegiStorm.com will be updated shortly after the Congress publicly releases its expenditure data. The Clerk of the House releases its data each quarter, and the Secretary of the Senate, every six months.
LegiStorm's web site includes all congressional staff salaries contained in these disclosures, from members' and leadership offices to legislative committees to non-political staff such as the elevator operators and Senate barbers.
LegiStorm.com contains all salaries beginning April 1, 2005 for the Senate and July 1, 2005 for the House. The site lists some 65,000 salary entries of nearly 20,000 different staff from more than 650 congressional offices.
Friedly said he expects the users of the site to be many: congressional staffers who are eager to see what their colleagues are making; job seekers who want to know their earning potential; lobbyists looking to hire Capitol Hill veterans; journalists and public interest groups who are monitoring for corruption; researchers who want to analyze trends and learn how different members of Congress pay their staff; and citizens who want to know how their own elected officials distribute taxpayer dollars.
LegiStorm.com's staff salaries are available for free. The site is supported by advertising. LegiStorm is considering offering additional subscription services in the future.
LegiStorm.com is a creation of LegiStorm LLC, a company based on Capitol Hill. Its sister company, Storming Media LLC, is the leading provider of Pentagon documents, including technical and military strategy papers. Another sister company, PatentStorm, is a searchable database of US patents.
###