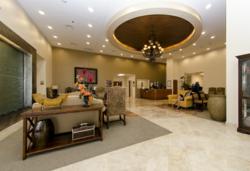 Congressman Ted Poe has been valuable to the past success and future vision of Humble Surgical Hospital
Humble, TX (PRWEB) May 30, 2012
Humble Surgical Hospital opened its doors in August, 2010, and since then has treated over 9000 patients. In a time when high quality healthcare at an affordable cost to the patient seemed like a dream, the CEO Dr. Mustapha Kibirige along with a group of dedicated physicians and administrators set out to accomplish such a goal. Congressman Ted Poe was a key individual who has helped to turn this wish into a reality, and who has, over the last several years, dedicated his time, energy and vision to not only making this a reality, but to ensuring the continued success and growth of the hospital and its staff as they provide the highest quality of care to the patient. In recognition and appreciation of the valuable role Congressman Poe has played in the past success and continues to play in the future vision of Humble Surgical Hospital, an operating room was dedicated to the Congressman on May 21, 2012.
Humble Surgical Hospital provides the highest levels of surgical care when it comes to the following specialties: spine surgery, orthopedic surgery, ENT (ear, nose and throat) surgery, facial plastics and reconstructive surgery, pain management, urology, GI (gastrointestinal) care, general surgery, OB/GYN (obstetrics and gynecology) and cardiac care. Minimally invasive surgery as well as traditional approaches are utilized every day. The hospital, which is Joint Commission Certified and Medicare Approved, has five operating rooms, two procedure rooms, a cardiac catheterization lab, and a cardiac nuclear scanner. There is an inpatient area where patients can stay as long as their recovery requires. A 45,000 square foot Medical Office Building which will also house clinical departments of the hospital is being constructed.
"We wanted to build a facility where patients can receive the highest quality care, with the best available technology, and combine this with a peaceful environment of compassionate and nurturing healing" states Dr. Kibirige, the CEO of Humble Surgical Hospital. "Dedicated physicians can only go so far when it comes to this goal. After that, we needed the support and vision of outstanding individuals who understand more globally the societal and financial needs of the patient. Congressman Ted Poe has given us this support." Realizing that providing the highest quality of care is a requirement for the best hospital practices, Humble Surgical Hospital has achieved a positive patient satisfaction rate of over 95%. Clinical benchmarks of excellence include an infection rate of less than 0.1%, which is well below the national average, and an operative "redo rate" which is less than 3 out of 9000 operations in two years, which is well below the national average as well. In his desire to give credit to the entire team, Dr. Kibirige has added "we also want to remember and give thanks to the insurance companies who work in concert with us to protect our patients' well being."
Elected to the U.S. House of Representatives in 2004 to represent the Second Congressional District of Texas, Congressman Poe is a leading voice for Texans standing up for conservative principles, reducing the size of the federal government and promoting constitutional and individual liberties. Prior to serving in Congress, Ted Poe served in the United States Air Force Reserves and earned a law degree from the University of Houston. Soon after graduation, he accepted a position as a prosecutor in Houston, Texas. During his eight years of service with the Harris County District Attorney's Office, he became the chief felony prosecutor. He later became one of the youngest judges ever appointed in Texas. Judge Poe was elected six times over twenty plus years on the bench and heard more than 20,000 criminal cases.
Congressman Poe proudly serves on the House Judiciary and Foreign Affairs Committees. In 2005, Congressman Poe established the bipartisan Victims' Rights Caucus (VRC) to advocate on behalf of victims in our nation's capital. As co-chair of the VRC, Ted Poe plays a vital role in passing legislation to safeguard our children and to ensure that the needs and issues facing victims of crime are equally represented. In addition, in 2011, Congressman Poe founded the bipartisan PORTS (Ports Opportunity, Renewal, Trade, and Security) Caucus to promote the importance of U.S. ports to the nation's economy.
Humble Surgical Hospital is a multi-specialty, physician-owned, surgical hospital just north of Houston located in Humble, Texas. Its premier location just off 59 North and FM 1960 provides patients easy access from Houston, Humble, Kingwood and the Woodlands. Their success is directly related to the quality of care patients receive and the personalized attention given to each and every patient. Humble Surgical Hospital is very active with the Humble community. It is a Center for Excellence in several surgical specialties, and is pleased to have received the recognition of insurance carriers for high quality standards. To set up a private tour and learn more about Humble Surgical Hospital please contact:
Contact info:
Debbie Cormier, RN, BSN, MHA
Humble Surgical Hospital
Chief Nursing Officer/Administrator
1475 FM 1960 E Bypass
Humble, TX 77338
281-964-2114