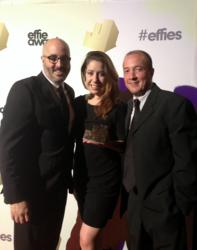 Marketplace results are what we come to the office for every day and serve as the ultimate validation of our endeavor
Los Angeles, CA (PRWEB) May 23, 2013
Conill today announced that it has won a gold Effie award in the Hispanic category for its integrated "Mi Tide" marketing campaign for Procter & Gamble's Tide brand. The award was presented during the 45th annual Effie gala, held last night at Cipriani in New York City. Starcom MediaVest Group (SMG), Conill's media planning and buying partner, shared in the award.
"Marketplace results are what we come to the office for every day and serve as the ultimate validation of our endeavor," said Conill President Carlos Martinez. "This honor underscores a true team effort from everyone at our shop, P&G's Tide brand team and our terrific partners at SMG."
Combining television, interactive, out-of-home and retail advertising, "Mi Tide" connected with consumers of varying Latino ethnicities and acculturation levels to further elevate the brand's leadership position in the segment. Rich with powerful insights, the creative execution of the effort leveraged family-oriented storylines, such as the relationship of in-laws of a Mexican family; a Cuban family portraying what a Sunday could be like in a Cuban household; and an Argentine mother with her acculturated U.S.-born daughter finding themselves in the middle of a culture clash.
"'Mi Tide' is a heartwarming and powerful example of a total market approach in practice," said Monica Gadsby, CEO Latin America and US Multicultural, SMG. "We were thrilled to work closely with Conill on this campaign and delighted that it was recognized last night."
Effies honor the most significant achievement in marketing communications: ideas that work.
Known by advertisers and agencies globally as the pre-eminent award in the industry, the Effies recognize any and all forms of marketing communication that contribute to a brand's success.
###
About Conill
Part of the Saatchi & Saatchi network, Conill is among the most highly awarded Latino agencies in the U.S. and is a four-time recipient of the prestigious American Association of Advertising Agencies' O'Toole Multicultural Award. It was named Multicultural Agency of the Year by leading industry trade publication Advertising Age in 2010 and 2007. The agency's roster of clients includes Aflac, Kraft, Procter & Gamble, T-Mobile and Toyota Motor Sales.
Web: http://www.conill.com | Twitter:@Conill
About Starcom MediaVest Group
Starcom MediaVest Group is the Human Experience Company. We believe experiences matter. They enhance lives and build brands. We bring brand experiences to life through SMG's three global agency brands: MediaVest, Starcom, and Spark. Ranked one of the largest brand communications groups in the world, Starcom MediaVest Group (http://www.smvgroup.com) encompasses an integrated network of human experience strategists, investment specialists, content creators and digital experts. With nearly 7,300 employees in 110 offices worldwide, SMG partners with the world's leading companies including The Coca-Cola Company, Kraft Foods, P&G, Samsung, Walmart, among others. In 2010, Adweek named SMG "Media Agency of the Decade."
Conill and SMG are part of Publicis Groupe [Euronext Paris: FR0000130577], the world's third largest communications group. Publicis Groupe is also ranked as the world's second largest media counsel and buying group and is the first global network in digital and healthcare communications. Website: http://www.publicisgroupe.com
Contacts:
Conill
Chris Traina
chris(dot)traina(at)conill(dot)com
201-282-5717
Starcom MediaVest Group
Ashok Sinha
ashok.sinha(at)smvgroup(dot)com
646-557-7229