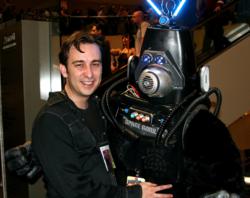 We want to bring the viewer into an unusual world to feel as if they were experiencing it firsthand.
Atlanta, Georgia (PRWEB) November 01, 2012
On October 15th Comcast's Xfinity On Demand premiered a show titled ConMan in their Atlanta market. This entertaining, host-driven, travel-style show takes you directly into the world of the con, with interviews of attendees, organizers, and entertainers. As a self-proclaimed con-nerd the host, Steve Bevilacqua, gets revealing information and understanding of fan culture by directly participating in the events he covers. The results are funny, exciting and sometimes dangerous – from trying on a fur suit to being branded by a fetishist, you never know what to expect next.
"The show is about much more than just science-fiction cons," Bevilacqua explains. "In our first three shows alone we cover horror, Furry, and BDSM lifestyles. We want to bring the viewer into an unusual world to feel as if they were experiencing it firsthand. They may not walk away accepting it, but at least they'll understand it a little better."
The On Demand show will appear on the popular Get Local ATL section under Best Of Atlanta reaching over 2.5 million households in the Atlanta and surrounding areas.
Opening sequence and video clips available at http://www.conmanshow.com.
About Comcast Cable
Comcast Corporation (http://www.comcast.com) is one of the nation's leading providers of entertainment, information and communications products and services. Comcast is principally involved in the operation of cable systems through Comcast Cable and in the development, production and distribution of entertainment, news, sports and other content for global audiences through NBCUniversal. Comcast Cable is one of the nation's largest video, high-speed Internet and phone providers to residential and business customers. Comcast is the majority owner and manager of NBCUniversal, which owns and operates entertainment and news cable networks, the NBC and Telemundo broadcast networks, local television station groups, television production operations, a major motion picture company and theme parks.
About Conman Productions
Conman Productions LLC is an Atlanta based broadcast production company whose initial product The ConMan Show is currently airing on Comcast's Xfinity On Demand.