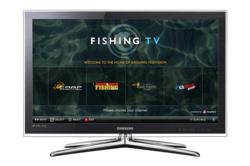 Fishing TV channel director Gareth Purnell said "We sidelined the idea of launching a channel on Sky as the numbers simply didn't add up,"
London, United Kingdon (PRWEB UK) 23 August 2012
Fishing TV has launched a connected TV app on Samsung devices that has been downloaded more than 40,000 times globally in the four weeks since it launched.
The app, developed by VoD provider Miomni, features four channels, including Sea Watch and Coarse Fishing, which are available to view on-demand. It replicates the content available via the Fishing TV website, which is updated bi-monthly with around three hours of magazine-style video content.
Fishing TV plans to extend the app to LG, Panasonic and Sony connected TVs, and beef up the range of content by striking distribution deals with other fishing channels.
Fishing TV channel director Gareth Purnell said connected TV was changing the landscape for niche broadcasters. "We sidelined the idea of launching a channel on Sky as the numbers simply didn't add up," he said. "The Samsung app allows us to harness the power of TV in a way that makes commercial sense."
He added that the app also offered the channel valuable international exposure, with the most downloads coming from the UK, Russia, the US and Germany.
As well as working on the Fishing TV project Miomni have worked with major Broadcasters, Film studios, Sporting brands and Gaming organisations to provide cutting edge digital solutions on multiple platforms and devices on a Global scale.
Miomni have long standing Strategic Partnerships with all the major Platform Manufacturers as well as operating System providers and as such have been able to create a number of unique and compelling solutions.
For further information about Miomni Holdings Ltd, please contact:
Head Office: Angel House, Angel Mews London N1 9HH - Tel: +44 (0) 207 837 1116
US Office: Miomni Corporation, 800 West El Camino Real, Suite 180, Mountain View, CA 94040
Tel: +1 (650) 903 2269
Email: info(at)miomni(dot)com
Web: http://www.miomni.com
Note to Editors
Miomni is a digital platform delivering user Interface, high quality video content, Interactive applications and e-commerce, to multiple platforms with full advertising capabilities. Miomni uses a proprietary content & asset management system. Incorporating a single integrated database for "over-the-top" global digital video delivery. Miomni also has the advantage of in-house creative services for advanced multi-platform User Interface (UI) design and User Experience (UX) navigation solutions, covering all viewing experiences.
"lean back" (10ft – Connected TV with remote)
"lean forward" (2ft - PC with mouse and keyboard)
"hand held" (1ft - smartphone or tablet)
"sit forward and interact" (the Multi Screen Experience)