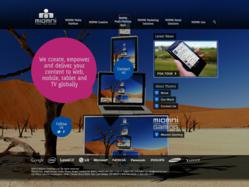 Mike Venner CEO of Miomni Holdings Ltd said: "I am really pleased with the new site and also recognise how important it is to showcase the amazing work the team have produced"
London, United Kingdom (PRWEB UK) 17 August 2012
Miomni have launched a fresh new version of their corporate website to reflect the clear definition between their many products and services in the Fast Moving Multi-Platform Connected World.
Miomni is a digital platform delivering user Interface, high quality video content, Interactive applications and e-commerce, to multiple platforms with full advertising capabilities. Miomni uses a proprietary content & asset management system. Incorporating a single integrated database for "over the top" global digital video delivery. Miomni also has the advantage of in-house creative services for advanced multi-platform User Interface (UI) design and User Experience (UX) navigation solutions, covering all viewing experiences.
To demonstrate this, the new Miomni Website has been separated into the following clearly defined areas:
Miomni Media Platform
Miomni delivers media to multiple platforms. Content is localised with its multilingual system which then allows the content delivery system to syndicates this to every corner of the globe. Miomni vastly extends the reach of content incorporating Asset and Content Management systems, Global Edge Cache CDN, Cost effective Management Tools, Extensive Reporting, Customized Multi-Platform Media Players and a wide range of Monetisation tools.
Miomni Creative
Miomni produce compelling and engaging designs that enhance brand value. However that is not the whole picture. A successful digital design is the one that provides great user experience and Miomni place strong emphasis on usability to achieve the goal. Miomni ensure the user interface is intuitive and easy to use, and the layout and structure are logical and consistent, so that users feel confident and enjoy interacting with the product.
Miomni Multi-Platform Apps
In 2006 Miomni became the first company to receive Intel Keystone Certification for TV user interface design and build. Since then Miomni has delivered solutions across Connected/Smart TV and now develops native apps for all of the major platforms.
Miomni offers bespoke development for cross-platform desktop or web based application, which can display live video feed or non-live digital content with a unique level of interactivity via the Miomni Media Platform.
Miomni offers bespoke multi-platform mobile phone and tablet applications with the development team covering apps for iPhone, Android, Windows Phone, Bada, Blackberry, iPad and Android tablets, all powered by Miomni Media Platform ensuring seamless media delivery across all devices.
Miomni Marketing Solutions
The IMU (Intelligent Media Unit) Powered by the Miomni platform transforms static, broadcast advertising into intelligent, user-driven, multi-functional media channels. It's 300% more effective than existing media ads. The IMU platform consists of a suite of modules and components (fullscreen live streaming video player, image gallery, user registration/comments, file upload/download, social media integration etc.) with multilingual support – all fully customisable to suite individual client's needs. All the content and functionality are dynamically managed and all key interactions tracked – providing the optimal campaign performance.
Miomni Retail Solutions
Miomni have created a technology which allows products to be added into a video timeline with a simple drag & drop. This is call this "P-Linking (Product Linking)".
Once products have been added to the video, they will appear next to the video at the same time as they are being discussed or shown in the video itself. These products can be assigned an action that leads to an online shop or an advertiser website.
Miomni Live
Wherever they are, an audience can experience the highest quality media – live broadcast or pre-produced video on demand – delivered by Miomni adaptive streaming service. The user's network conditions and playback capabilities are constantly analysed with the data size being adjusted accordingly. This ensures the minimum waiting/buffering time with a good experience for both high- (broadband) and low-bandwidth (3G mobile) connections.
Miomni Gaming
Miomni have developed a proven Middleware Platform and dedicated team to safely and securely deliver sports, race and gaming to Web, Mobile, Tablet and TV globally.
Miomni have also updated its Company News Section and provided details of the work that has been carried out for it's extensive client list. A few of which are listed below:
PGA TOUR Windows Phone App
Paddy Power Smart TV
Fishing TV
CueSport TV
Intel Info Stream
Vodafone McLaren Mercedes
Fasionair
For further information about Miomni Ltd, please contact:
Head Office: Angel House, Angel Mews London N1 9HH - Tel: +44 (0) 207 837 1116
US Office: Miomni Corporation, 800 West El Camino Real, Suite 180, Mountain View, CA 94040
Tel: +1 (650) 903 2269
Email: info(at)miomni(dot)com
Web: http://www.miomni.com
Notes to Editors:
About Miomni Ltd (http://www.miomni.com)
With offices in London and North America, Miomni provides a multi-platform digital media solution delivering user interface, high-quality video content, interactive applications and e-commerce, to multiple platforms with full advertising capabilities. Miomni uses a proprietary content and asset management system, incorporating a single integrated database for "over the top" global digital video delivery.Miomni also has the advantage of in-house creative services for advanced multi-platform User Interface (UI) design and navigation solutions, covering all viewing experiences.
"lean back" (10ft - TV with remote)
"lean forward" (2ft - PC with mouse and keyboard)
"hand held" (1ft - touch screen mobile or tablet)
"sit forward and interact" (the Multi Screen Experience)