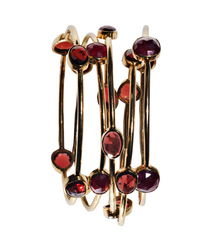 "I am honored to be able to help fund the fight for a cure, and I have no doubt that our customers will feel like they have helped a bit as well just by shopping for the jewelry they love."
Greenwich CT (PRWEB) October 19, 2010
In support of Breast Cancer Awareness Month, online jewelry store Jewel Loft (http://www.Jewel-Loft.com)] announces that 20% of all online sales from now until then end of the month will be donated to Breast Cancer Alliance for breast cancer research and to promote breast health. Breast Cancer Alliance was founded in 1996 in Greenwich, CT, where Jewel Loft is based and several current Jewel Loft customers are avid supporters of the local organization. It is because of this that owner of Jewel Loft, Jennifer Freedman, has taken a close personal interest in her hometown's own breast cancer research funding organization. In addition, Jewel Loft is also launching a new Facebook campaign to donate $1 to breast cancer research for each new "Like" during the month of October.
Already a well established Greenwich jewelry store, Jewel Loft decided to launch their ecommerce store late last year in order to meet the demands of their current customers as well as reach out to the vastly growing online consumer base. Established in 2002, Jewel Loft has brought a unique edge of creativity to Greenwich each year with its handmade gemstone jewelry and individual craftsmanship. "I wanted to create truly artisanal jewelry that would be part of the lifestyle of the modern, chic woman" says owner and jewelry designer Jennifer Freedman. With online sales growing steadily each month, Freedman decided to help promote breast cancer awareness through online proceeds and her recently established Facebook Market Place.
With the launch of Jewel Loft's Facebook Market Place comes an even easier and newer way to shop online. Fans of Jewel Loft can quickly browse through the newest handmade jewelry and make a purchase without ever leaving Facebook. This month's focus will appropriately be red and pink gemstones that represent and reflect breast cancer awareness month. Customers who want to stay up to date with all the latest trends and newest creations can "like" the Jewel Loft page and for every new "like" that the month of October brings, Freedman will add one more dollar to the Breast Cancer Alliance donation.
Breastcancer.org recently released statistics indicating that 1 in every 8 women will develop invasive breast cancer over the course of her lifetime. "So many people are affected each year by breast cancer, and I feel it's incredibly important as a business owner to support this cause," said Freedman. "I am honored to be able to help fund the fight for a cure, and I have no doubt that our customers will feel like they have helped a bit as well just by shopping for the jewelry they love."
About Jewel Loft:
Jewel Loft is a one of a kind jewelry store in Greenwich CT with an exceptional talent for creating and designing unique handmade jewelry. The Store sells finished pieces of jewelry as well as loose precious and semi-precious gemstones. Scattered amongst all of the raw gemstones, are one-of-a-kind finished pieces designed and created on-premise by Jenni and her staff. Because the store is also known as a custom jewelry shop, the finished pieces often act as inspiration to clients for pieces they would like to have created.
###