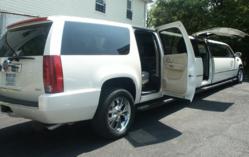 I was able to book my CT Limousine from Dubai and also secured transportation in Miami and California by making one phone call and speaking to one agent over the phone. Nothing beats a one stop limousine shop..

Jake Ramsey
Fairfield, CT (PRWEB) May 31, 2013
The options are endless for CT group limo travel and choosing the right limo for the group is indicative to the trip. Each Connecticut limousine, servicing group travel, is inspected and fit properly for each trip. Speaking to a representative can easily solve the issue of which Connecticut limo is best for the group, the luggage and comfort.
Nationwide Affiliations And What It Means To Group Transport
Group transportation no longer has to be a hassle since travelers can rely on a Connecticut limo to get them to their destinations specially with the recent affiliation with national affiliates offering a wide range of high occupancy vehicles. Executive vehicles are offered and can accommodate the masses. CT limo provides 10 to 14 Passenger Executive vans, 8-9 Passenger Lincoln Stretch limousines, and 6-7 passengers Executive SUV's. Moreover, the option of luxury group limousines are offered as well. The 10 Passenger Chrysler 300, 14 Passenger Super Stretch Lincoln limo, 18 Passenger H2 Hummer Super Stretch, 18 Passenger CT Cadillac Escalade and the 25 passenger Connecticut limo party bus. Due to the expansion with the various providers nationwide, shadyslimo.com is capable of offering limousine services to the entire 50 States including some countries in Europe such as:

England
France
Germany
Italy
Greece
Turkey
Coverage is also available in the following middle eastern countries:
United Arab Emirates
Kuwait
Qatar
Bahrain
Saudi Arabia
Jordan
Egypt
Morocco
Due to the high demand for such services, Limousine Services Worldwide continues to expand it's global reach by constantly improving its international fleet of vehicles and affiliates.
What Is Needed to Know for Group Travel With CT Limousines?
Connecticut limousine (http://www.shadyslimo.com) knows that when it comes to group travel anything can happen. CT limousine attempts to oversee all logistics and preparations and are fully prepped and ready to go. Before booking a CT limo there are a few options that should be noted beforehand. First, how any people are traveling and how many bags will there be? This is important and vital; knowledge of different stops and pickups is also necessary as this information will empower the agent in forming the trip itinerary. Moving forward, special requests or needs will have to be thought of thoroughly in order to make an intelligent choice about the vehicle being booked that will handle the group's needs. These two work hand-in-hand, due to money requirements and depending on the time of group trip prices may vary. Being the leading provider of group travel in CT, Connecticut limousine is happy to provide the service and knowledge for group travelers.
These are basic questions that need to be asked to the passenger and the Connecticut limousine representative will avidly help. CT limo reps will be happy to assist the group travel and provide the answers for the transportation needs. Limousine Services Worldwide has been in service for many years and provides the top tier transportation service throughout CT, NYC, NJ and the other surrounding states.