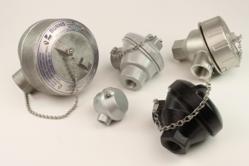 Protecting the sensor connection is critical to good sensor performance, don't leave it to chance.
Minnetonka, MN (PRWEB) August 31, 2012
Burns Engineering's Connection Head Catalog clears up some of the confusion regarding connection head options and choices. The head choices range from plastic to aluminum to stainless steel. Offerings include various coatings, sizes, and ratings such as NEMA4, NEMA4X and Explosive environment.  Most accept transmitters or terminal blocks, with several incorporating loop powered or battery powered digital indicators.
This supplement, available in Electronic Format, is an excellent reference document for use in conjunction with Burns Engineering's Series 100 and Series 200/300 sensor catalogs.
About Burns Engineering:
Since 1960, Burns Engineering has been an industry leader in the design and manufacture of temperature measurement products for the Process, OEM and Metrology industries. Products include RTDs, Secondary SPRTs, Thermocouples, Thermowells, Transmitters and NVLAP® Accredited Calibrations (Lab Code 200706-0). Learn more about Burns Engineering at http://www.burnsengineering.com or contact directly at 800-328-3871