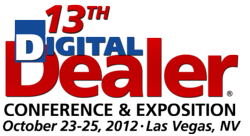 100+ educational sessions, workshops and case studies will be presented including a keynote session from Google
(PRWEB) August 09, 2012
Digital Dealer Learning Labs will be held at the 13th Digital Dealer Conference & Exposition, October 23-25, at The Mirage Resort in Las Vegas, NV. These focused one-on-one training sessions will provide attending dealers and managers with the opportunity to meet with experts to get one-on-one coaching on how to improve in areas such as: Google Strategies, Facebook Strategies, Mobile Apps, e-Newsletters, Search Engine Optimization (SEO), Social Media Strategies, BDC Processes, Video Strategies, Telephone Scripts and Fixed Operations Mobile Strategies.
Attendees will benefit from customized, actionable feedback delivered by preeminent market leaders specializing in these critical areas of dealership operations. "Digital Dealer Learning Labs will provide an incredible educational option for our national audience of dealership attendees and offer just what they're looking for – the opportunity to work with a market expert to discuss how to improve in a number of subjects that drive dealership profitability'' stated Michael Roscoe, President of Dealer Communications, the host company for the event.
Digital Dealer Learning Labs will be offered on the ten different topics noted, during ten different, fifty-minute sessions staged over the course of the three day conference. Each topic will have a dedicated table situated in the Digital Dealer Exhibit Hall and feature 4-5 dealers and an expert in one of the topic areas.
The format was designed to provide direct one-on-one coaching between a leading expert and dealership attendees, much like a mini-20 Group. In order to accomplish this goal, each session will be limited to five dealership attendees so subject matter experts can dedicate time to each participant.
Jerry Thibeau has been tapped to lead a portion of the BDC Processes discussions. Thibeau is the president and founder of Phone Ninjas, a company focused on helping dealerships improve phone skills. Jerry is a 27 year automotive veteran and has earned the nickname 'the phone Ninja' for his ability to turn even the hardest of phone shopper into a real appointment that shows. Having personally listened to and provided coaching feedback on more than 10,000 sales calls and visited countless dealerships, Thibeau will deliver ideas that yield results.
Kathi Kruse has been selected to lead the Facebook sessions. Kruse is an automotive Social Media expert, blogger, author, speaker and founder of Kruse Control Inc. Born in into a family of 'car people', Kathi will combine her passion for cars and aptitude for business to help dealers and managers use the Facebook platform to better engage customers to sell and service more vehicles. The other subject areas will be led by experts of similar quality and stature.
The 13th Digital Dealer Conference & Exposition will also feature Digital Dealer Innovation Hours -- dedicated time to see focused 10-minute product demonstrations of the latest and greatest products, services, technologies and applications from leading solutions providers in the Digital Dealer Exhibit Hall. This will allow attendees to better understand emerging technologies and what solutions might work best for their dealerships, with out rapport-building and info gathering that typically is involved in a booth visit. Instead a concise, 10 minute demonstration, followed by a few minutes of questions, will allow dealers and managers the opportunity to decide if they want to spend any more time with that exhibitor during regular exhibit hall hours. If so, set an appointment to come back. If not...go check out the next Innovation Hour booth you're interested in.
The Digital Dealer Peer Networking Roundtables Dinner will debut at the 13th Digital Dealer Conference & Exposition, offering dealers and managers a new way to connect with peers from similar-sized operations. The new event will serve as an extension to Digital Dealer's legendary Peer Networking Roundtables, where dealers and managers have the unique opportunity to sit down with peers from outside their markets and discuss challenges. The new dinner option offers attendees another chance to connect with a group of like-minded peers to tackle their most pressing issues.
Further, Digital Dealer 13 will now offer in-depth case studies where attendees can drill down on an actual example of how a dealership used a specific product, service, technology or application. These detailed sessions will help dealers and managers better understand how to successfully implement solutions they learned about at the event.
These new benefits will add to features that have made Digital Dealer the industry's premier event for learning and networking. Over 100 educational, sessions, workshops and case studies will be presented including keynote sessions from Google and Facebook. 100 technology-specific solutions providers will be showcased in the Digital Dealer Exhibit Hall -- all providing technology, services and applications designed to make dealerships more successful.
"Often imitated, never duplicated, the Digital Dealer Conference isn't the best event for dealers and mangers interested in technology because it's the biggest. It's the biggest, because it's the best. But while no event can match Digital Dealer's number of sessions, exhibitors and peers with which to network, there are a myriad of opportunities to participate in small group discussions, workshops and learning labs at the 13th Digital Dealer Conference & Exhibition, in Las Vegas," continues Michael Roscoe, President of Dealer Communications, the host company for the event.
To learn about the speakers who will be presenting at this event and to register for the automotive industry's premier educational conference and exposition dedicated to Internet technology solutions for automotive dealers visit: http://www.DigitalDealerConference.com
ABOUT DEALER COMMUNICATIONS
Dealer Communications is the leading multi-media information source for franchised automotive dealers and managers. Connecting with franchised automotive dealers and managers over ten million times per year, Dealer Communications publishes the monthly print and online editions of Dealer magazine and Digital Dealer magazine. Online weekly newsletters include Dealer; Digital Dealer; Dealer Fixed Operations; Dealer Pre-Owned; Dealer F&I, and Dealer Sales and Marketing. Dealer Communications also offers the Digital Dealer Webinar Series, with online presentations throughout the year. To see all that Dealer Communications offers, visit: http://www.dealer-communications.com
Dealer Communications also owns and operates the Digital Dealer Conference & Exposition, the premier educational conference and expo dedicated to Internet and technology solutions for automotive professionals. Digital Dealer events deliver the largest array of speakers, peer to peer networking opportunities, and exhibit hall offerings – all carefully designed to impart cutting edge business strategies. With an audience of the industry's most progressive dealers and managers and the most innovative conference format, Digital Dealer provides the ultimate learning and networking environment.
The 13th Digital Dealer Conference and Exposition will be held October 23-25, at The Mirage in Las Vegas, NV.
There will be new Digital Dealer Learning Labs, Digital Dealer Innovation Hours, a new Digital Dealer Peer Networking Roundtables dinner, more than 100 workshops, over 100 specialized technology solutions providers, and many more exciting new benefits. For more information, visit: http://www.DigitalDealerConference.com