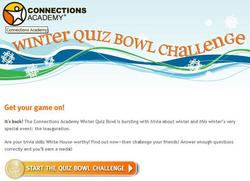 This season, our interactive Quiz Bowl Challenge features questions about the Inauguration and winter and is suitable for students of all ages.
Baltimore, MD, (Vocus) January 21, 2009
Connections Academy, the leading virtual public school that delivers exceptional public schooling from the comfort of home, today announced the release of its latest Quiz Bowl Challenge -- a timely educational activity packed with trivia about the season and one of this season's most anticipated events -- the Inauguration. The special edition is available for free to the public at http://www.caquizbowl.com.
In addition to the interactive online quiz, Connections Academy has made available a printable PDF version of the Quiz Bowl Challenge -- a handy resource for teachers everywhere and a portable activity for family fun in the car.
"At Connections Academy we recognize the value of infusing learning with fun. Trivia games, like the Connections Academy Quiz Bowl Challenge, offer an entertaining way to test and increase knowledge about relevant and timely subject matter," said Adrian Alleyne, Senior Manager for Curriculum Development for Connections Academy. "This season, our interactive Quiz Bowl Challenge features questions about the Inauguration and winter and is suitable for students of all ages. "
The Connections Academy Quiz Bowl is a favorite of Connections Academy students and one of the many activities the school offers students enrolled in the innovative virtual public school. Other popular clubs and activities include the chess club, debate club, the Pens & Lens literary publication, the school newspaper, The Monitor, and many more.
Sample Questions from the new Connections Academy Quiz Bowl Challenge include:
1. During a very chilly ceremony, John Quincy Adams caused quite a stir among the press when he was inaugurated because he was the first President to be sworn in wearing...
a. a skirt
b. short trousers
c. long trousers (answer)
d. no hat
2. How many presidents have there been before Barack Obama?
a. 40
b. 41
c. 42
d. 43 (answer)
3. The day of the year with the shortest amount of daytime is the Winter Solstice, and falls on...
a. March 13th
b. June 25th
c. January 2nd
d. December 21st (answer)
Connections Academy is a leading national operator of high-quality, tuition-free, highly accountable virtual public schools. Serving students in kindergarten through 12th grade, the school serves a wide range of students, including those who are significantly ahead or behind in the classroom; students who benefit from highly individualized instruction; or who want a flexible school schedule. The school also appeals to previously home-schooled students and students who, for a variety of reasons, are better served outside the traditional classroom.
Connections Academy virtual public schools (http://www.connectionsacademy.com) combine state-certified teachers, a standards-aligned curriculum, unique technology tools, an extensive selection of clubs and community experiences to create an individualized alternative to the bricks-and-mortar classroom.
Families interested in Connections Academy are encouraged to learn more at http://www.ConnectionsAcademy.com.
About Connections Academy
Connections Academy is a leading national provider of high quality, highly accountable virtual public schools in thirteen states operated in partnership with charter schools, school districts, and state departments of education. Connections Academy schools deliver top quality, personalized education for students that combines certified teachers, a proven curriculum, technology tools, and community experiences to create a supportive and successful environment for children who want an individualized approach to education. In Connections Academy's unique Personalized Performance Learning® approach, students use daily lesson plans and curriculum materials provided by Connections Academy. Teachers develop a learning plan for each student, whose progress is tracked through a proprietary, web-based Learning Management System. In 2008-09 Connections Academy will serve students in Arizona, California (Southern and Central), Colorado, Florida, Idaho, Minnesota, Missouri (through the Missouri Virtual Instruction Program), Nevada, Ohio, Oregon, Pennsylvania, South Carolina and Wisconsin. In 2008-09 Connections Academy will offer grades K through 12, though some schools do not offer all grades. For more information, call 800-382-6010 or visit http://www.ConnectionsAcademy.com
Contact:
Allison Bazin
Connections Academy Public Relations
(609) 247-0275
###