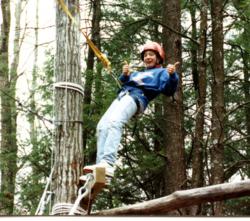 In the wake of recent events, it becomes harder and harder for parents to trust, which means fear is easily projected onto the children.
Peterborough, NH (PRWEB) April 23, 2013
With the latest incidents in Boston, MA adding to the list of horrific tragedies, Connective Parenting's latest blog cautions parents to focus on trust, not fear in order to strengthen and empower their children.
Parents want their children to feel self-confident—the #1 key to successful living. But in times of tragedy, parents worry, "What do they know? What do they think? How do they feel?" A parent's protective shield surrounds her children and distrust is conveyed.
Connective Parenting addressed how to handle children's fears after tragedy in the blog, "Look for the Helpers". This time, the focus shifts to the parent.
Most parents want their children to be able to trust the world they are growing into—with discernment and good judgment. In the wake of recent events, it becomes harder and harder for parents to trust, which means fear is easily projected onto the children.
To insure that children don't live under the spell of their parent's fears, parents can:

Own their own fears and express concerns to children as their own—not generalize.
Watch the child's behavior that signals how the issue is being dealt with. Don't make assumptions of fear and anxiety.
Share fears and worries with a partner or close friend.
To empower children to problem-solve:
Engage children in thinking through ways to handle a problem rather than directing ways they should handle it.
Encourage children to speak up and say "no" when being offered something or pressured and to be aggressive when called for. This requires allowing young children to say "no" to parents when they don't like something.
Ask, "What do you think you would have done to stay safe if you had been there?"
Tragedies have been happening for as long as the world has been. Plagues and wars, disease and death, violence and evil have always been in the world. Parents can help children maintain a healthy perspective while making safe choices. They must encourage their children to live life to their fullest and not be victimized by those determined to hurt and kill.
About Connective Parenting:
Bonnie Harris, M.S.Ed., parent educator for 25 years, founded Connective Parenting in 2003 with the release of her first book, "When Your Kids Push Your Buttons". Connective Parenting is based on principles, found in her second book, "Confident Parents, Remarkable Kids: 8 Principles for Raising Kids You'll Love to Live With," that focus on the child's strengths rather than inadequacies while creating a balance between the child's needs and the parent's. Harris teaches parenting workshops, professional trainings and gives speaking engagements internationally. For more information, call 603-924-6639 or visit http://www.connectiveparenting.com.