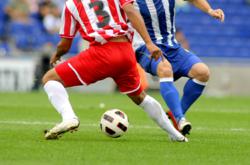 We are excited to 'kick off' our sporting events this Saturday with a friendly game of pick-up soccer.
Vancouver, BC (PRWEB) May 16, 2013
This summer, Connect the Doc will run a variety of community sporting events to promote healthy living and an active lifestyle. On Saturday, May 18th, the CTD co-founders and its new business development team members will be playing soccer at David Lam Park in Yaletown and welcomes anyone interested in playing to join.
"Our team just tripled in size and we thought that playing soccer as a group with members of the community would be a great way to introduce ourselves and our service," says Nadeem Kassam, CEO of Connect the Doc. "Over the summer, we really want to stress the importance of living an active lifestyle, so we will be organizing a variety of sporting events including volleyball, football, ultimate, and ball hockey games."
At future events, the Connect the Doc team will also try to bring out some Vancouver physiotherapists, massage therapists, acupuncturists, and chiropractors that are enrolled on its online appointment booking platform to provide complimentary assessments to participants and spectators. For more information on Connect the Doc and its upcoming events, please visit: http://www.facebook.com/connectthedoc