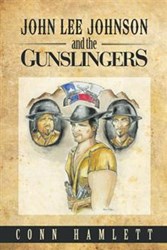 He writes, "The dialogue and interaction of the participants take you to the year 1864 as the people are swept along by the tears and upheavals of a changing nation."
JOELTON, Tenn. (PRWEB) October 23, 2013
In Conn Hamlett's latest novel, "John Lee Johnson and the Gunslingers" (published by Abbott Press), John Lee Johnson returns for another adventure in the untamed west where John goes up against a scheming widow.
"The book is filled with violence and struggles, but it also has humor and sadness and the full gamut of human emotion," Hamlett says of his book. "When I finished the book, I knew I had written something extraordinary."
As the Civil War begins to die down in the late months of 1864, John Lee Johnson is ready to head home to his 50,000 acre ranch in Texas where cattle rustlers have been slowly draining his herd. Before he can make it home, the Union government has a job for him. Two outlaws are hiding in the badlands, and John needs to arrest them.
The outlaws, however, are nothing compared to the likes of Marilla Urmacher, the widow of the outland brigade Indian Melvin. Marilla has big plans for John and intends to lure him to a ghost town where two gangs will be ready to take him out. In the event that he escapes, Marilla has also hired the two best gunmen in the west to wait for John at his ranch. Will John walk straight into Marilla's trap? "It is a titanic struggle between good and evil, and good wins in the surprising ending," says Hamlett.
"John Lee Johnson and the Gunslingers" combines action and adventure together with the untouched beauty of the old west. He writes, "The dialogue and interaction of the participants take you to the year 1864 as the people are swept along by the tears and upheavals of a changing nation."
"John Lee Johnson and the Gunslingers"
By Conn Hamlett
Hardcover | 6 x 9in | 306 pages | ISBN 9781458211293
Softcover | 6 x 9in | 306 pages | ISBN 9781458211309
E-Book | 306 pages | ISBN 9781458211286
Available at Amazon and Barnes & Noble
About the Author
Conn Hamlett earned a bachelor's degree from Lipscomb University and a master's degree from Peabody/Vanderbilt, Nashville, Tenn. He worked as a Latin teacher, professional wrestler in the NWA, competitive bodybuilder, radio personality and sports host on 1510 WLAC. He has previously published "John Lee Johnson from Texas" and "John Lee Johnson on the Trail." More information can be found at http://www.johnleejohnson.com.
Abbott Press, a division of Writer's Digest – the oldest and most respected publisher devoted to the education and advancement of writers – is an indie-publishing imprint dedicated to helping writers bring their literary vision to print. Author Solutions, LLC, a leader in indie book publishing, will fulfill publishing, sales, and marketing services for Abbott Press. For more information, or to begin publishing a book today, log on to abbottpress.com or call 866-697-5310.