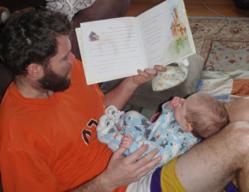 Every child comes into the world with inner strengths, brimming with potential for living well.
Sedona, Arizona (PRWEB) February 27, 2013
Author of The Twelve Gifts collection, Charlene Costanzo, is adding to her website free resources for parents and teachers. Among them is a list of ways the gifts of strength, beauty, courage, compassion, hope, joy, talent, imagination, reverence, wisdom, love, and faith can be nurtured in children.
For example, parents and teachers can:

Praise the gifts as they see them being used.
Ask children, "What do you think?"
Listen fully.
Rescue bugs instead of crushing them.
Aim for excellence instead of perfection.
Encourage the expression of feelings.
The full list can be seen at http://charlenecostanzo.com/for-homes-and-classrooms/
According to the bestselling author of The Twelve Gifts of Birth, all children are born gifted and talented.
"While every child may not excel in athletic skill, artistic expression, or academic performance, every child comes into the world with inner strengths, brimming with potential for living well," says Charlene Costanzo.
"Fortunately, they also have resiliency because, being human, they will endure hardships," adds Charlene. "No matter how much we love the children in our lives and how hard we try to protect them, we can't prevent hurts from happening."
Charlene stresses that parents and teachers can fortify the resilience of children by giving them a lifelong foundation of inner strength and self worth.
"We face many challenges at this time," says Charlene. "The future needs today's children to keep hope, joy, courage, compassion–all their gifts–vitally alive through their growing years and into adulthood. Therefore, we need to be more conscious and careful in the way we help children see themselves, their gifts, and their place in the world."
Charlene Costanzo is an award-winning author, workshop facilitator, wife, mother, and grandmother. She holds a B.A. in Philosophy from St. Bonaventure University and an M.A. in Spiritual Psychology from the University of Santa Monica.
Charlene has been speaking and writing about The Twelve Gifts since she published The Twelve Gifts of Birth in 1999. The bestseller contains a message that tells children about the gifts they received when they were born. The Twelve Gifts collection has since grown to include The Twelve Gifts for Healing, The Twelve Gifts in Marriage, The Thirteenth Gift, and Touchstones: Stories for Living The Twelve Gifts. Readers can learn more and subscribe to Today's Touchstone at http://www.TheTwelveGifts.com