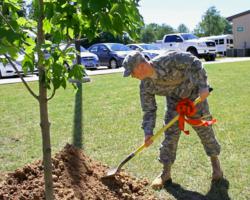 It means a lot to work for an organization like this that actually cares about the environment...
Camp Robinson, AR (PRWEB) May 12, 2011
The National Guard's newest recruits arrive at the GED Plus program knowing their teachers will challenge their minds as they work towards their diplomas. But it comes as a surprise to some whose old mores and values are challenged forcing them to think about environmental impacts of each action or inaction.
When recruits enter the GED Plus complex, they are introduced to a culture of reusing, recycling and conserving the environment. Paper recycling containers are in each of the 22 classrooms, along with multiple material recycling bins in offices, break rooms and cafeteria. As a green building, the complex also features efficient and recycled building materials, smart lighting, computer regulated temperatures, and water conserving appliances.
"We make them think about what they use, throw away or recycle," said GED Plus Commander Lt. Col. Mary K. Maguire. "Here, this is who we are, good stewards of the earth and defenders of our environment. It's a way of life we hope catches on with these new Soldiers."
On Arbor Day, May 29, 2011, the GED Plus program hosted an environmental essay contest and planted a 15-foot red autumn maple tree donated by Bemis Tree Farm in Little Rock. GED Plus teacher, Shannon Maiden, prefaced the ceremony by discussing the significance of Arbor Day and what it means to participate in environmental activities.
"More than ever, it is important for us to find ways to preserve and protect our earth," Maiden said to the crowd. "We at the GED Plus program want to do our part by planting this beautiful red maple as a symbol of our commitment to being good stewards of our planet."
Maiden introduced the finalists of the essay contest and invited the winner, Private Nathan W. Chase to read his winning essay to his teachers, staff and fellow recruits.
Chase, a native of Clifton Park, N.Y., wrote about ways to reduce use of fossil fuels, use renewable energy sources and keep the earth clean. After reading the essay, he was invited to turn over the first shovel of soil for the tree planting.
"I've learned a lot about the environment," Chase said about the entire experience. "Planting trees is a respectable thing to do. It's our earth, it's where we live and I'm definitely going to sustain programs like these in my unit."
Private Seth Augeri from West Danville, Vt. was the first runner up in the conservation essay contest. Augeri said he really hadn't given much thought to ways of reducing impacts on the environment before the contest. "Participating in these events, makes you really think about how fragile our environment really is," said Augeri. "I think twice now before I throw things away."
Maiden joined the teaching staff of GED Plus program in August of 2010 and said she was impressed at how her employer involves all levels in the culture of conservation. "It means a lot to work for an organization like this that actually cares about the environment and is doing things to actively involve people and doing things to give back."
###