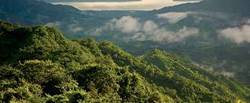 This is how modern conservation works, with dynamic partnerships involving all stakeholders to protect ecosystems that sustain life on Earth
Arlington, Virginia (Vocus) October 17, 2007
The Nature Conservancy and Conservation International (CI) have joined the governments of the United States and Costa Rica in one of the largest debt-for-nature swaps in history.
The agreement will ensure the protection of Costa Rica's most critically threatened tropical forests, with the United States forgiving $26 million of Costa Rica's debt and Costa Rica spending that amount on tropical forest conservation programs over the next 16 years.
The U.S. government contributed $12.6 million appropriated by the Tropical Forest Conservation Act (TFCA), with Conservation International and The Nature Conservancy providing an additional $1.26 million each to the purchase of the debt at a discounted rate. The law firms White & Case and Pacheco, Odio & Alfaro represented the Conservancy and CI in the transaction on a pro bono basis.
"For more than 30 years, we've been working in Costa Rica, which has always been at the forefront of Latin American conservation," said Stephanie Meeks, acting president and CEO of The Nature Conservancy. "Costa Rica is teeming with natural beauty, biodiversity and threatened species, from jaguars to squirrel monkeys to scarlet macaws. And as an increasingly popular tourist and retirement destination, it faces increasing development pressure. We're glad to have this opportunity to continue working with local people and government and nonprofit partners to protect this magnificent place for generations to come."
Established by the U.S. Tropical Forest Conservation Act (TFCA), debt-for-nature swaps enable the United States to forgive a country's foreign debt in exchange for the participating government's commitment to devote a specified amount of money to conservation work. The Costa Rica agreement is the largest debt-for-nature swap ever made under the TFCA – $26 million.
"This is how modern conservation works, with dynamic partnerships involving all stakeholders to protect ecosystems that sustain life on Earth," said Peter Seligmann, the CI chairman and CEO. "The Costa Rican tropical forests are home to a rich variety of life and provide the natural resources depended on by people living in and around them. They also are important for slowing global warming because they store atmospheric carbon, one of the greenhouse gases causing climate change."
Cutting and burning tropical forests contributes 20 percent of total greenhouse gas emissions, which is more than all the world's cars, trucks, trains and planes combined. Costa Rica has reversed a deforestation trend that saw it lose almost 80 percent of its original forest cover. It now has replanted and reclaimed previously deforested areas, with 52 percent of the country now forested again.
The areas selected for protection under the new debt-for-nature swap represent the top conservation targets in the country, as identified by a new scientific blueprint that addresses gaps in conservation planning.

The Osa Peninsula faces severe threats of illegal logging, poaching, and over-development. The rainforest meets the sea on the Osa, which is home to the jaguar, squirrel monkey, scarlet macaw and over 370 bird species.
Totuguero lies near the Caribbean Sea and consists of rich expanses of forests that are all part of a vulnerable ecosystem. It provides a safe refuge for jaguars, Green Macaws and several species of turtle that must be safeguarded in order to maintain the size and state of this fragile habitat.
La Amistad contains the largest untouched tract of rainforest in Costa Rica and is also home to most of the country's local indigenous communities. Its people are working with the Conservancy and CI to pursue sustainable livelihoods.
Maquenque in the northern part of the country is rich in wetlands, lagoons, forests and hills and is home to the Great Green Macaw and Ocelots.
Zona Norte del Rincon de la Vieja is the area north of the Rincón de la Vieja volcano, an area with rich dry forests that are some of the largest forest covers in Central America.
Nicoya Peninsula in a tourist destination in northwest Costa Rica, home to beautiful beaches and rich biological corridors that connect protected areas.
The TFCA requires that developing countries with critically important tropical forests meet certain political and economic requirements to be eligible for debt-for-nature swaps. The legislation currently is being reauthorized in Congress, with expectations that its scope will expand to include coral reef protection.
Debt-for-nature swaps also include contributions from private individuals and organizations, along with the U.S. Treasury funds. Once a swap is completed, the participating country makes payments to a Conservation Trust Fund to support local tropical forest conservation activities. Previous agreements have included Belize, Guatemala, Jamaica, Colombia, Peru, and two with Panama.
Contacts:
Bridget Lowell, The Nature Conservancy, + 703-841-4531, blowell @ tnc.org
Tom Cohen, Conservation International, +703-341-2729, tcohen @ conservation.org
The Nature Conservancy is a leading conservation organization working around the world to protect ecologically important lands and waters for nature and people. To date, the Conservancy and its more than one million members have been responsible for the protection of more than 15 million acres in the United States and have helped preserve more than 102 million acres in Latin America, the Caribbean, Asia and the Pacific. Visit The Nature Conservancy on the Web at http://www.nature.org.
Conservation International (CI) applies innovations in science, economics, policy and community participation to protect the Earth's richest regions of plant and animal diversity and demonstrate that human societies can live harmoniously with nature. Founded in 1987, CI works in more than 40 countries on four continents to help people find economic alternatives without harming their natural environments. For more information about CI, visit http://www.conservation.org.
# # #