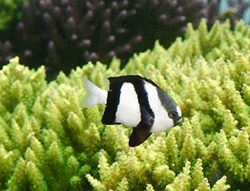 Coral reefs are one of the most diverse and important habitats on the planet
Honolulu, HI (Vocus) September 10, 2009
As coral reefs continue to die off from an array of environmental stresses, including global warming and ocean acidification, inevitably entire species of coral will start to go extinct. With a global reputation for coral conservation, the Waikiki Aquarium is currently growing more than 127 species of corals from the South Pacific and Hawaii, a collection unrivaled in the Western Hemisphere. This bank of live coral creates the beginnings of a global database that tracks the origins of each specimen's DNA, enabling further research and captive propagation.
"Coral reefs are one of the most diverse and important habitats on the planet," said Director of the Waikiki Aquarium Dr. Andrew Rossiter. "Through our coral research and conservation programs, we want to help to unlock the secrets of coral biology to better understand these imperiled environments, and ensure their continued existence for future generations to enjoy."
Through the Aquarium's Coral Farm program, researchers have also developed a delicate method of propagating small fingers of coral and growing these to become a healthy coral head. Pieces of coral removed from these cultivated heads are shared with other researchers and public aquariums worldwide, reducing collection pressures, and furthering research and conservation efforts. Corals originating from the Waikiki Aquarium's Coral Farm program can be seen in almost every aquarium exhibiting coral across the United States. In addition, a newly established Coral Ark program seeks to conserve rare Hawaiian corals, with the ultimate objective of propagating them in captivity until they can be reintroduced into the wild.
Internationally renowned as a pioneer and leader in coral propagation, the Waikiki Aquarium has successfully maintained live corals since 1978 and now houses the largest and oldest collection of corals in the United States. Through an expanded propagation program, the Waikiki Aquarium aims to halt the decline in coral species to ensure thriving and diverse coral reefs for generations to come.
About the Waikiki Aquarium
Founded in 1904 and administered by the University of Hawaii since 1919, the Waikiki Aquarium is located on the shoreline of Waikiki Beach next to a living reef and across from Kapiolani Park. The Aquarium - third oldest in the U.S. - showcases more than 500 marine species, and maintains more than 3,000 marine specimens. Public exhibits, education programs and research focus on the unique aquatic life of Hawaii and the tropical Pacific. The Aquarium welcomes more than 320,000 visitors annually, and is open daily from 9 a.m. to 4:30 p.m. except Honolulu Marathon Sunday and Christmas Day. Admission is $9 for visitors; $6 for local residents, active duty military with ID, students with ID and seniors; $4 for youths ages 13-17 and persons with disabilities; $2 for juniors ages 5 to 12; and free for children 4 and under and Friends of Waikiki Aquarium (FOWA) members. For more information about the Waikiki Aquarium, including membership, please call (808) 923-9741 or visit http://www.waquarium.org.
# # #