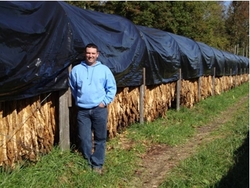 It's less costly, because you don't have to till it or cultivate it. So it saves fuel in a big way. It also cuts way down on erosion, because you're not stirring the soil. And if there's a heavy rain after you cut it, there won't be as much mud or dirt on it as conventional till. The cover crop protects it from the rain
Richmond, VA (PRWEB) January 6, 2010
As part of the company's commitment to good agricultural practices, Philip Morris International is encouraging tobacco growers to consider adopting conservation tillage practices. Environmental advantages of reduced-till and no-till tobacco include soil moisture conservation and topsoil preservation, thanks to reduced soil erosion. Economic advantages include reduced labor, less tractor wear and tear, and significant fuel savings.
"Tobacco is a high-value crop, and many growers still believe they have to stir the ground," says Bob Pearce, tobacco production specialist and Extension professor at the University of Kentucky. "It's not true, but it's a deeply held belief.
"That's the way it was with corn, too," Pearce adds. "People didn't think no-till corn would work. Today almost all corn in Kentucky is no-till."
When Pearce talks with tobacco growers, a lot of them say continuously growing tobacco wears out the ground. "But one of the reasons is the tillage, not the crop," he says. "When we stir up tobacco ground, we're reducing organic matter, destroying soil structure and losing topsoil."
Pearce has been researching tobacco tillage practices for more than a decade. He estimates that 5 to 7 percent of the Burley tobacco crop in Kentucky is grown using conservation tillage - either strip-till or no-till.
"Conservation tillage is an emerging practice," he says. "There's a fairly low rate of adoption at this point, but there's a lot of potential because there are several major advantages."
Preserving Topsoil
Pearce says the biggest advantage, by far, is maintaining the long-term productivity of good tobacco soils. "With few exceptions in Kentucky, we're growing on rolling ground. Every time you till, you open up the soil to losses."
In addition to soil conservation, Pearce cites moisture conservation, fuel savings and the potential to produce a cleaner leaf. Because of the cover crop or residue, the cut leaf doesn't come into direct contact with the soil. So there's less likelihood of muddy tobacco.
Early Adopters
Paul Dennison, a tobacco grower from Horse Cave, Ken., has been experimenting with no-till for four years, and steadily increasing his no-till acreage. "The University of Kentucky was down in this area several years ago, doing demonstrations with a no-till setter. They were letting growers use it to plant an acre or two, so I tried it.
"I was always taught that for your tobacco to do well, you had to cultivate, cultivate, cultivate. Whether you've got weeds or not, you've got to plow. That was the theory on producing high yield weights," he adds. "So the first year with no-till, I had my doubts.
"The next year, I located a no-till tobacco setter and increased my no-till acreage to eight acres, then 15 acres. This year, I've got 20 acres of no-till out of 75 total tobacco acres."
These days, Dennison agrees with Pearce about the advantages of no-till. "It's less costly, because you don't have to till it or cultivate it. So it saves fuel in a big way. It also cuts way down on erosion, because you're not stirring the soil. And if there's a heavy rain after you cut it, there won't be as much mud or dirt on it as conventional till. The cover crop protects it from the rain," he says.
Comparable Yields
What about yields? "That's the biggest concern," says Pearce. "But based on the field trials we've done over the years, some years no-till tobacco does better, some years conventional does better. They have similar yield potential."
Once again, Dennison agrees. "No-till tobacco yields just as well, and in some cases, maybe better. And it doesn't take a lot of modification to convert a conventional tobacco setter to no-till. I really like it."
So does Chad Brown, a young farmer from Greensburg, Ken. "I'm tickled to death with no-till tobacco," he says. "This was my first year growing it. I grew 10 acres out of 94 total. Next season, I'm planning on 30 acres of no-till."
Brown studied no-till tobacco for a couple of years before he tried it. "I was working toward getting everything ready, learning how to manage it and how to modify a setter," he adds.
According to Brown, "No-till takes a lot less labor to get the field ready to set. You use a lot less diesel fuel and there's less tractor work. Another thing I like is it doesn't erode the soil. Some of our tobacco patches are on hilly ground, and we were having soil erosion problems. No-till solved that."
Weed Control Options
Pearce believes limited weed control options may be keeping more growers from trying no-till tobacco. "Fortunately we do have a few very effective weed control products available that we've learned how to use in no-till," Pearce explains. "You just have to manage your weed control program more closely."
Brown says people cautioned him that weed control would be a problem with no-till tobacco. "But I had good luck with that, too."
Good Management is Key
Pearce describes no-till as a more challenging system. "A grower has to be on top of crop management to have it work like it should," he notes. Other challenges include lack of machinery, and soil compaction during the transition to no-till until organic matter builds up in the soil.
"Strip-tillage is in between," Pearce continues. "It's more management intensive than conventional, but less than no-till. With strip-till, growers will get some of the same advantages as no-till tobacco. But in most cases, growers are still making at least two tillage passes, so you'll lose fuel savings. And with strip-till you're still tilling a third of the ground, so it's more prone to soil erosion than no -till."
Supporting the Shift
Pearce believes there's huge upside potential to conservation tillage in tobacco. "We know we can help save good tobacco ground, produce a cleaner crop and save fuel - without sacrificing yield - if growers will take the time to manage it properly. At one point it had very narrow appeal, but now it's getting a broader audience."
Pearce also cites increasing interest in no-till and strip-till from grower groups and tobacco companies. "There's been a steady stream of help from companies like Philip Morris International to support conservation tillage and other good agricultural practices," he adds.
Says Brown, "They've been recommending going this route to help soils from washing away, and fertilizer from getting into creeks and streams. I figured I'd jump in and learn, to get ahead of the curve. Hopefully one of these days, I'll go all no-till."
###