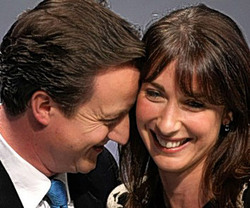 (PRWeb UK) April 16, 2010
The cheating masses have spoken; Britain's adulterous spouses have voted Sam and David Cameron as the political celebrities they'd most like to have an affair with.
IllicitEncounters.com, which provides a platform for married people to find secret lovers, surveyed 1,000 of its members about which current political celebrities they would most like to have an Illicit Encounter with. Tory leader David Cameron came top of the charts for the ladies; 49% of female members said they would favour the Conservative candidate over other party leaders for a clandestine tryst. Youngest of the Prime Ministerial hopefuls, Nick Clegg, came in at second place with 30% of the female votes, with 'prudent' PM Gordon Brown trailing in a distant third with just 7%.
As for the ladies, Cameron's wife Sam topped the charts as most desired mistress (52%), followed by former chairwoman of the Conservative party Theresa May, who took 13% of the male votes. Sarah Brown came just below with 12%.
Although the poll only featured British political personalities, many respondents expressed an interest in several sexy overseas celebrities, including US President Barack Obama (2%), French beauty Carla Bruni-Sarkozy (1%) and German Left Party politician Julia Bonk (0.5%).
CEO of IllicitEncounters.com, Adam Scott, comments, "Photogenicity and charisma seem to be becoming increasingly important in the race for No 10 which was why we decided to conduct the poll. There were some real surprise answers in the results; it's shocking where some people's affections lie! It would appear there's hope yet for eternal Tory spinster Ann Widdecome, who polled 4 votes, whilst bumbling blonde London Mayor Boris Johnson tickled the fancy of 3 of our lady members."
Despite the opportunity to make their own suggestion, 3% of respondents refused to choose anyone, saying they would rather spend an evening on their own. One member simply responded with the word "shudder".
IllicitEncounters.com currently has over 450,000 members across the UK. The site has been running since 2003. For a full table of results from the survey, please contact Rosie Freeman-Jones on presspr(at)illicitencounters(dot)co(dot)uk.
###