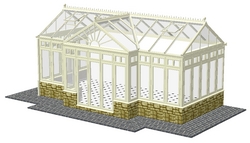 (PRWEB) October 11, 2010
Conservatoriesprices.co.uk is proud to announce the launch of a great new feature that lets you design conservatories online, compare prices from installers and even ask an impartial online expert particular conservatory questions.
The new tool from Conservatory Prices allows the consumer to compare leading UPVC and hardwood installers, to get the best options on price and design. There's also a huge range of designs, nationwide service, discounts and even finance options available online.
Conservatory Prices is the kind of site a consumer would want to visit when they either:

Know exactly type of conservatory required and in need of a price comparison
Are not sure exactly what type of conservatory they would like and want to consider the vast array of conservatory options
Design a conservatory online!
Conservatory Prices allows its visitors to design a conservatory. Its so simple, choose from an extensive range of design options, submit the form and the design is sent to three companies in the local area who can make the dream conservatory design a reality. The design options are almost limitless. Choose from:
Approximate dimensions
Conservatory type, e.g. UPVC, hardwood and more
Conservatory colour, e.g. white, light oak, rosewood and more
Conservatory style, e.g. Victorian, Edwardian, Gable Ended and more
Build options (if known)
Base style, e.g. dwarf wall, full height, glass and more
Roof ventilation
Door position
A simple, well executed website, and so easy to use.
In just a few clicks the visitor could be designing their own conservatory or, at the very least, know what sort of conservatory they would want and who to select to design it.
The site also offers two additional money-saving options:
DIY Conservatories – choose a self-build conservatory and erect it as a dIY project. This will save A LOT of money by cutting out middlemen and sales commissions.
Conservatory blinds – the site provides window and roof blinds for conservatories. Allowing the visitor to save a realistic 35% off the usual cost of conservatory blinds, compared to High Street retailers.
Why visit Conservatory Prices?
Conservatory Prices connects you with conservatory installers from a huge national database. The aim? To save time, money and effort in helping in the search for a local, cost-effective conservatory.
Since the website was first established in June 2008, Conservatory Prices has built excellent connections within the industry.
The business is always researching and securing cost effective UPVC conservatory installers to join their network. As a result, Conservatory Prices are well on their way to becoming the UK's leading conservatory cost comparison website.
The benefits (in a nutshell):
Strictly vetted. The site only has established contractors in its database, in order to ensure total peace of mind.
Save time, money and hassle. No need to waste time searching loads of sites, instead - simply access dozens of specialists in one place.
Value for money. Compare conservatory prices throughout the UK
Ask the expert. The site doesn't affiliate itself with any particular companies therefore enjoy totally impartial advice.
This is one conservatory website that does not fail to impress
To start designing a perfect conservatory, visit http://www.conservatoriesprices.co.uk today.
# # #