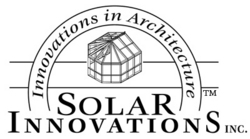 Myerstown, PA (PRWEB) June 26, 2008
Solar Innovations, Inc., a custom manufacturer of residential and commercial conservatories, greenhouses, sunrooms, folding and sliding glass doors, walls, windows, and screens, provides customers with a complete window and door line to complement their decorative conservatories.
Solar Innovations™ decorative conservatories line can be fully accessorized with functional fenestration options which allow you to maintain the integrity of traditional conservatories. Opening your conservatory to the outdoors has never looked better with casement windows, awning windows, French doors, terrace doors, and new hung windows and Tilt-n-Turn and Tilt-n-Slide products.
While Solar Innovations, Inc. has offered their casement windows, awning windows, French doors, and Terrace doors as fenestration choices in their unique conservatories for nearly 10 years, the addition of hung windows and the Tilt-n-Turn and Tilt-n-Slide products completes the window and door options available for customers interested in adorning their Solar Innovations™ conservatory with European style fenestration options.
Hung windows by Solar Innovations™ provide tilt-in cleaning features and are available in single hung or double hung options. These windows are often found in Victorian homes, making them the perfect integration for a traditional-styled conservatory.
The tilting fenestration line, including Tilt-n-Turn and Tilt-n-Slide doors and windows can also be incorporated into decorative conservatories by Solar Innovations™. These windows and doors have the ability of functioning as inswing or tilting units to allow for optimum ventilation. Solar Innovations, Inc.'s Tilt-n-Slide windows and doors provide a sliding feature on a track similar to that of a traditional sliding window or door and incorporate the ability to tilt inward. Both Tilt-n-Turn and Tilt-n-Slide products can be designed to fit the style and functional requirements of your Solar Innovations™ conservatory.
Hung window systems and Tilt-n-Turn, Tilt-n-Slide window and door systems can be customized with numerous decorative elements to enhance their appeal in the conservatory. Grids, simulated divided lites (SDLs); beveled, etched or leaded glass; and applied radius or gothic corners are viable options for embellishing the fenestration products in the conservatory. Conservatories are often highly decorative, making these options perfect for a traditional Victorian or English conservatory.
Solar Innovations'™ casement, awning, Tilt-n-Turn, and Tilt-n-Slide windows share similar profiles, making them easily interchanged and more cost effective. The similar profile construction of these window lines allows for greater design opportunities when creating fenestration products to complement Solar Innovations'™ conservatories.
Solar Innovations, Inc.'s conservatory window and door line is available in seven standard colors of Hartford Green, White, Black, Bronze, Sandstone, Natural Clay, and Mill Aluminum (unpainted) as well as two anodized colors including Dark Bronze and Clear. Wood options include interior veneer options of Mahogany, Spanish Cedar, Western Red Cedar, Southern Yellow Pine, Douglas Fir, and White Pine.
These new window and door product lines are intended to be fully integrated into their conservatories. For more information on Solar Innovations'™ products please contact the marketing department at skylight@solarinnovations.com or call 800-618-0669.
###