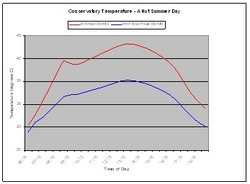 Bristol, UK (PRWEB) August 4, 2009
Whilst the installation of blinds helps to cool and /or warm a conservatory it was not known how beneficial they were. Therefore Appeal Conservatory Blinds requested an environmental services engineering consultancy, Faber Mansell, to test the effectiveness of their Pleated and Original French Pinoleum blind fabric along with their exclusive aluminium backed climate control fabric, Alu-Pleat®.
To facilitate the tests Faber Mansell developed a standard semi-detached house with a 3.5m x 3.5m south facing conservatory, heated by one radiator linked to the main central heating system of the house. By using control measures and industry standard software for thermal modelling they would achieve results which were as accurate as possible.
Without the installation of any conservatory blinds the temperature on a standard hot day in July reached an incredible 43 degrees centigrade. With the installation of roof and side Pleated and Pinoleum blinds the temperature reduced to 37 degrees centigrade. However, the temperature was reduced further to 35 degrees centigrade when Appeal's unique Alu-Pleat® blinds were installed, an incredible 18% reduction on the internal temperature of the conservatory. It was also established that the installation of Appeal roof blinds was three times more effective at keeping the internal temperature down during the hottest part of the day rather than just the use of side blinds.
Likewise, during the winter, whilst the installation of the Pleated and Pinoleum blinds would reduce heat loss by 17%, Appeal's bespoke Alu-Pleat® blinds would reduce heat loss by 18%. Compare this to the Energy Saving Trust's information that standard double glazing reduces heat loss by up to 10%, and it proves that the installation of roof and wall blinds can also greatly reduce heating bills.
Consequently the investigations proved that if you want to reduce your carbon footprint and reduce your fuel bills then the installation of roof and side conservatory blinds would be extremely beneficial and that Appeal Conservatory Blinds exclusive Alu-pleat® fabric was the best performing material for summer and winter. Richard Hussey, Marketing Director of Appeal Conservatory Blinds, comments "This independent research shows the benefits of using blinds in the conservatory to keep the room cool. Roof blinds are essential in controlling the temperature and Alu-Pleat and Solar R also offer valuable insualtion and heat saving in the colder winter months."
About Appeal Conservatory Blinds
With over 20 years experience in providing shading solutions, Appeal Conservatory Blinds offer a range of conservatory blinds to suit applications ranging from conservatories and sunrooms to glazed extensions to offices, restaurants and hotels. To find out more about the ranges of blinds and fabrics available from Appeal visit http://www.appealblinds.com or freephone 0800 975 5757 UK or 1800 509 482 ROI (all lines open 24 / 7)
###