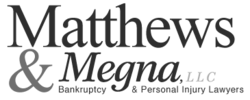 Bankruptcy protection can not only help big corporations get back on their feet, but it can help regular folks in South Carolina get back on track
Ny,Ny (PRWEB) February 05, 2013
Fees paid by Lehman Brothers Holdings Inc. in connection with its decision to file for bankruptcy four years ago have exceeded more than $2 billion, according to a story published by Bloomberg(Jan. 31, 2013) and other news outlets. Since the former investment bank filed for bankruptcy in September 2008, the defunct firm has only paid creditors 9 cents on the dollar. By 2016, the company only expects to pay about 18 cents on the dollar to creditors, Bloomberg reported.
The Lehman Brothers bankruptcy case offers some valuable lessons for people struggling to pay their own bills, according to South Carolina bankruptcy lawyers Matthews & Megna. "We know how hard it is for so many to pay their bills," South Carolina bankruptcy lawyer Ben Matthews said today. "We have listened to clients pour their hearts out and talk about how difficult it is to stay afloat financially from one day to the next. We know how the fear of financial ruin can grip someone's heart and keep them awake at night, worried that this week will be the one they can't make ends meet.
"Bankruptcy protection can not only help big corporations get back on their feet, but it can help regular folks in South Carolina get back on track," Columbia bankruptcy attorney Matthews added. "We can help with the process. There is a way out for many people struggling with the day to day financial burdens of everyday life. We can help review all the financial options available to you. We can work with you and help you decide whether filing for Chapter 7 bankruptcy or Chapter 13 bankruptcy is the right decision for you. There is a way out of your financial nightmare. And we can help show you the way."
Lehman Brothers was the world's fourth-largest investment bank when the company decided to file for Chapter 11 bankruptcy in September 2008, according to an article published by Thomson Reuters (Jan. 31, 2013). The bankruptcy filing was the largest one in U.S. history, Bloomberg reported. In December 2012, Lehman Brothers paid more than $150 million in fees to financial and professional advisers, according to a court filing in U.S. Bankruptcy Court in New York, N.Y., on Jan. 31, 2013, Thomson Reuters reported. That brings fees for handling the company's bankruptcy liquidation process to more than $2 billion, Bloomberg reported.
In a separate filing Jan. 31 with the bankruptcy court, Lehman Brothers announced it will make its third payment since filing for bankruptcy to creditors between March 25 and April 30, 2013, Thomson Reuters reported.
There is a clear distinction between money paid in fees and payments to creditors, according to Thomson Reuters. "Professional fees in bankruptcy are public because they come out of the same pot of money used to pay creditors," the Thomson Reuters article states. "Professionals are paid ahead of other creditors, so every dollar paid in fees is a dollar less that goes to creditors."
About Matthews & Megna
Serving the Columbia, Florence, Darlington and all of South Carolina since 1985, attorneys Ben Matthews and Tony R. Megna have handled thousands of cases and won major settlements for clients, whether settling out of court or going to trial. Matthews & Megna's areas of practice include bankruptcy law, auto accidents and workers' compensation cases. They also handle truck accidents, motorcycle accidents, golf cart accidents and moped accidents. The law firm handles personal injury cases on a contingency fee basis. As a result, clients only pay for legal services if they win.
Along with an office in Darlington, the law firm's main office is located at 3406 West Avenue, Columbia, SC 29203. To schedule a free case evaluation or for more information, call (803) 799-1700 or visit the law firm's website at http://www.matthewsandmegna.com.