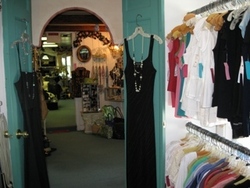 People have dropped off $1500 gowns at our store that they wore one time which we sold for a fraction of the cost
Danbury, CT (Vocus) August 27, 2009
Consignment shopping is thriving in this economy, says designer shopping expert Janet Falkenthal, who just celebrated the 25th anniversary of her women's designer consignment store The Fashion Exchange in Newtown, CT and just opened her second shop, in Danbury, CT.
"A good women's consignment shop can be a label-conscious Fashionista's best friend, offering style and designer labels at bargain prices, often 50 to 75 percent less than retail. The image that consignment equals 'second hand' or 'thrift shop' isn't always the case," Ms. Falkenthal explains. "Upscale consignment shopping is about the thrill of the hunt. You come in for black pants and leave with treasures like a Chanel dress, Prada shoes and an Anne Klein jacket -- all in perfect condition and in your size! You paid 75 percent less than at the mall. That's the thrill."
On the flip side, if you are tired of your clothes that are still in style or you need cash, consignment is the answer. Ms. Falkenthal says "You would be surprised how many top executives and financially successful women sell and buy their clothing at consignment shops. They get bored with what they have, drop off designer labels, and buy more. Consignment is the best kept secret of many wealthy women with great taste. The consignor and the bargain shopper both win."
Fashion Exchange designer consignment tips for a successful consignment shopping experience:

If you are searching for work attire start from the bottom up. First choose a skirt or pants that fit well, and then search for jackets, sweaters, blouses that match.
Accessorize to complete -- or change -- the look. Most consignment shops have great inexpensive scarves, belts, purses, earrings, necklaces, and more to enhance an outfit. You can get totally different looks by only changing the scarf, adding a belt and jewelry.
When you are only going to wear a dress once -- for a black tie affair like a wedding -- consignment is your best friend. You will find evening wear that has maybe been worn once, and you will get it for a great price! And then maybe you can re-sell. "People have dropped off $1500 gowns at our store that they wore one time which we sold for a fraction of the cost," says Ms. Falkenthal.
Think of your visit as an adventure and have fun. Take time to go through everything. You never know what treasures await you.
Bring in items from home that need updating. You can create a whole new look for your favorite dress or suit by trying it on at the consignment store with a variety of tops, jackets and accessories.
Consignment shop accessories - a scarf, jewelry, belt, purse -- make for great, unique, and affordable gifts.
The Fashion Exchange is celebrating its 25th year in Newtown, CT and the opening of its new Danbury, CT location.
For more information visit http://www.thefashionexchangeconsignment.com.
Contact:
Rodi Rosensweig
203-270-8929
Rodicompany (at) earthlink (dot) net
###