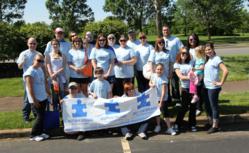 Console & Hollawell remains committed to raising awareness about autism and encouraging community involvement as a whole.
Marlton, NJ (PRWEB) May 24, 2012
Building on Autism Awareness Month's momentum, the New Jersey personal injury lawyers at Console & Hollawell sponsored "Just for Jackson", one of the top fundraising teams in South Jersey for Autism Speaks, the largest autism science and advocacy organization in North America. The team, along with more than 20 employees and family members from the firm, participated in the Walk Now for Autism Speaks, a fundraising event at Bishop's Gate in Mt. Laurel geared to raise awareness about autism and increase community involvement. The event, including children's entertainment and networking opportunities for parents, ran from Friday May 18th through Saturday May 19th.
"We turned to Autism Speaks immediately," said Emily Kreifels. Doctors diagnosed her son Jackson with autism two days before his fourth birthday. "Everybody in the local chapter in Westmont, New Jersey was so helpful with giving us all the different resources and information to get Jackson services right away. I personally am so involved in Autism Speaks because I see the difference they make in people's lives. I want to be able to help families like they helped me." In sponsoring the "Just for Jackson" team, Console & Hollawell is helping Autism speaks reach their local fundraising goal of $425,000. In total, 187 teams participated in the walk in South Jersey.
Every 11 minutes, another child receives an autism diagnosis. This disease robs children of their ability to socialize, learn new skills and communicate on even basic levels. While autism affects one in 88 children (one in 54 boys) around the country, it receives much less in private funding than other diseases that strike fewer kids. As of 2012, autism research receives less than five percent of the research funding of many less prevalent childhood diseases.
Autism Speaks has committed more than $142.5 million to both research and the development of key resources for families through 2014. The organization was also instrumental in establishing the United Nations-recognized World Autism Awareness Day on April 2.
Console & Hollawell remains committed to raising awareness about autism and encouraging community involvement as a whole. Our personal injury attorneys and supports staff members don't just work in South Jersey, this is our home. We encourage any and all residents to participate in these fundraising events to devote more money to research in the hopes that one day we can cure this debilitating disease. Let's give afflicted children a chance to live full lives and even stop autism before it starts.