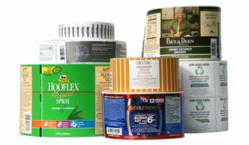 Longwood, FL (PRWEB) April 24, 2013
Consolidated Label Company, a leading manufacturer of custom labels in the United States, has released a list of top practices for creating a successful label strategy to help customers understand the role custom labels play in its branding. The list is based on customers' experiences and aims to help new buyers of custom labels learn what steps should be taken for an improved ordering experience and labels that meet, even exceed, expectations.
"Developing a strategy for your labels is critical to your labels' overall success, not only from a logistical standpoint but also from a branding one as well," said Joel Carmany, president of Consolidated Label. The company found that there are five critical elements for developing a labeling strategy that buyers should consider before obtaining a price quote.
Several important questions a new buyer should ask:
What is the label's message? – Labels that have a clear and concise message are much more likely to connect with consumers than labels solely designed for aesthetic appeal.
Is the container a right fit? – The label isn't the only thing that will get noticed; how well the label works with the container can enhance or lessen the product's shelf appeal.
Where will the labels be stored/applied/used? – Knowing the label's different environments for storage, application and usage will help a new customer choose the right combination of materials for optimum labels that last longer.
A customer can lose valuable time and resources by not taking the time to set goals, objectives and tactics for their custom labels. "Having a set plan can reduce the chances of waste and error occurring during printing because the label manufacturer will have a better understanding of the customer's needs," noted Carmany. These best practices can greatly benefit small and startup businesses because it will help them do more with its limited resources.
To view the complete list, visit http://www.consolidatedlabel.com/blog/2013/4/23/five-key-elements-to-creating-a-successful-labeling-strategy/.
About Consolidated Label:
Founded in 1981, Consolidated Label is one of the country's leading suppliers of custom labels, flexible packaging and shrink sleeves. The company produces custom labels and packaging for thousands of customers across a wide variety of industries including food, beverage, household products, medical, pharmaceutical, and promotional products.
For more information, visit http://www.consolidatedlabel.com.