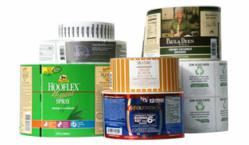 Longwood, FL (PRWEB) January 08, 2013
Consolidated Label Company, a leading manufacturer of custom labels in the United States, has released their label packaging trends for 2013. In the release, the company discusses labeling trends that will affect the marketplace for label businesses as well as label partners in 2013.
"The release offers customers insight on some of the biggest trends to anticipate for in 2013," said Joel Carmany, president of Consolidated Label. "Brand owners are continuously looking for new trends and new technology for their products. We feel that this list will give the owners a competitive head start in the marketplace."
Custom label trends in 2013 include:

Increase in shrink sleeve production
Continue segmentation of consumer product lines
Breaking down larger packaging sizes into individual serving sizes
Higher quality graphics and shelf appeal
Increase metallic and foil materials
Digital printing continues to make an impact
Carmany predicts that in 2013, there will be continued increase in shrink sleeve labels as well as increase in metallic materials on custom labels. "Shrink sleeves are one of the fastest growing packaging methods for bottles and we do not predict it slowing down any time soon," noted Carmany. "With brand owners constantly looking to differentiate themselves from their competitors, shrink sleeves and metallic material will help give products the shelf appeal necessary to attract customers."
Carmany also added that he expects digital printing to make an even bigger impact for product owners. With more economical label prices and faster turnaround, more consumers are leaning towards this printing method. In the end, it is a win-win situation for all.
To view the complete list of label trends in 2013, visit http://www.consolidatedlabel.com/blog/2013/1/3/custom-label-trends-in-2013/
About Consolidated Label:
Founded in 1981, Consolidated Label is one of the country's leading suppliers of custom labels, flexible packaging and shrink sleeves. The company produces custom labels and packaging for thousands of customers across a wide variety of industries including food, beverage, household products, medical, pharmaceutical, and promotional products.
For more information, visit http://www.consolidatedlabel.com