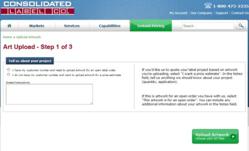 Longwood, FL (PRWEB) February 27, 2013
Consolidated Label Company, a leading manufacturer of custom labels in the United States, announces new enhancements to the popular label artwork upload tool as part of the company's increased efforts to make ordering custom labels easier. The new enhancements will improve the speed and process for customers who upload their label artwork through the website.
"We've been seeing an increase in customers handling their business transactions online in recent months," says Joel Carmany, president of Consolidated Label. "In response, we added improvements to the artwork upload tool to make the ordering process easier, faster and more efficient for customers." New and current customers benefit by using the art upload tool to do things like get a price quote or update an existing custom labels project.
Key enhancements released in the latest update includes the ability to upload multiple art files at one time, an increase in size limit to 1 gigabyte on art files and a restructure of the programming processes. "These new enhancements will expedite the process for a customer when uploading their custom label artwork file to our system," noted Carmany. "We have received numerous feedback and suggestions from our customers and we feel these improvements address most of those inquiries. We will continue to improve the system to ensure that our customers receive the best experience possible when doing business with us."
Launched in 2012, the art upload tool has been a popular resource with the customer base. The tool is now integrated into the Acount Profile management system and the Online Quoting System. By integrating this tool into the other systems, it offers customers more flexibility and freedom to submit and review their custom label artwork whenever and wherever. Consolidated Label plans to release another major upgrade to the system within the next year.
To view the Art Upload Tool, visit https://secure.consolidatedlabel.com/artupload/artupload.aspx
About Consolidated Label:
Founded in 1981, Consolidated Label is one of the country's leading suppliers of custom labels, flexible packaging and shrink sleeves. The company produces custom labels and packaging for thousands of customers across a wide variety of industries including food, beverage, household products, medical, pharmaceutical and promotional products.
For more information, visit http://www.consolidatedlabel.com