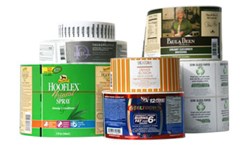 Design and print quality are key to having a great looking label.
Longwood, FL (PRWEB) October 03, 2013
Consolidated Label Company, a leading manufacturer of custom labels in the United States, has published its best practices for designing custom labels to help non-professional designers improve the quality of their label artwork for optimal print results. Customers can use the company's most popularly given tips to learn how to set up a design document, work in the correct color space and more.
"These practices are based on design and print principles we've found to work best for printing high quality labels," said Joel Carmany, president of Consolidated Label. The list was compiled from the company's art and customer service teams so readers can get the most accurate and up-to-date information on designing custom labels suitable for print.
Examples of topics that are covered in the article:

Software compatibility
Image and graphic requirements
Label size and formatting
Color specifications
Barcodes
"Design and print quality are key to having a great looking label. Customers who are designing labels on their own will surely find this resource valuable for achieving the labels they want," said Carmany. The article is the latest addition to Consolidated Label's growing collection of resources that aims to help customers better understand custom label printing. Customers can also visit the company's Artwork Support section on its website for more detailed information on the various topics covered in the article.
To view the article, visit http://www.consolidatedlabel.com/blog/2013/9/30/best-practices-of-designing-custom-labels/.
About Consolidated Label:
Founded in 1981, Consolidated Label is one of the country's leading suppliers of custom labels and flexible packaging. The company produces custom labels and packaging for thousands of customers across a wide variety of industries including food, beverage, household products, medical, pharmaceutical and promotional products.
For more information, visit http://www.consolidatedlabel.com.