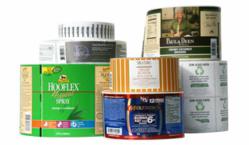 Longwood, FL (PRWEB) February 19, 2013
Consolidated Label Company, a leading manufacturer of custom labels in the United States, has released a list of cost-effective tips for consumers and businesses on ways to drive down custom labeling costs. The list offers insights from a label industry insider so a consumer or business won't have to choose between price and quality when ordering custom labels.
"One of the most cost-effective things a consumer or business can do, in regards to custom labels, is to arm themselves with information and to have an open channel of communication with their label company," said Joel Carmany, president of Consolidated Label.
Some things a consumer or business can do to lower their custom labeling costs:
Size matters – Reducing or choosing a smaller label size will lower the amount you spend per custom label because the material is the main cost…less square inches of material equals a lower cost.
Various low gauge material available – Thinner film materials can provide a lower cost alternative for label stock. Since film has thinner liners than other materials, you can get more labels on a roll which can lower raw material and application costs.
Digital printing for smaller orders – Orders of less than 10,000 custom labels benefit the most from digital printing because it lowers setup time, reduces waste and does the job quickly. Additionally, there are no printing plates to produce.
Place blanket orders – Your overall price per label will be reduced if you place a blanket order with multiple releases. The manufacturer can produce a larger quantity and ship from stock.
"Many of our customers are businesses, so we've been able to see what works and what doesn't when it comes to driving down the cost of custom labels," said Carmany. "From a label company's perspective, we want our customer's labels to be a branding asset rather than just an expense because their label's success is also our success."
Regardless of the current economic environment, label companies like Consolidated Label are always looking for ways to improve the label purchasing experience for their customers. Carmany adds that when consumers and businesses are looking for a label manufacturer, they should make sure the company uses quality management systems to better ensure the integrity of their custom labels.
To view the complete list, visit http://www.consolidatedlabel.com/blog/2013/2/18/cost-effective-ways-to-drive-label-costs-down/.
About Consolidated Label:
Founded in 1981, Consolidated Label is one of the country's leading suppliers of custom labels, flexible packaging and shrink sleeves. The company produces custom labels and packaging for thousands of customers across a wide variety of industries including food, beverage, household products, medical, pharmaceutical, and promotional products.
For more information, visit http://www.consolidatedlabel.com.