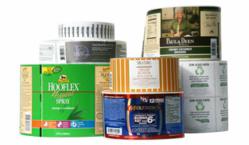 The guide is a valuable tool because it can answer questions and give customers a starting point for buying labeling equipment.
Longwood, FL (PRWEB) May 22, 2013
Consolidated Label Company, a leading manufacturer of custom labels in the United States, has published a labeling equipment guide to help customers who want to increase their capabilities beyond hand application. Choosing the right labeling equipment can get very technical and understanding what to buy can feel overwhelming. The guide was created to assist customers in making better informed decisions so they can get optimal labeling equipment.
"Shopping for labeling equipment can be a complicated process which is why we made the guide to teach first time buyers and alleviate some of their stress," says Joel Carmany, president of Consolidated Label. The shopping process can be difficult for first time and repeat buyers because there are a multitude of factors to consider. Consolidated Label found from research and experience that there are a few essential points to consider when buying labeling equipment.
Several important questions a new buyer should ask:
How much am I willing to invest? - Labeling equipment can range from a couple hundred to tens of thousands of dollars – knowing your budget beforehand can reduce time spent on researching because your search will be narrower.
What type of equipment should I get? - Developing a labeling strategy before shopping will help you figure out what equipment specifications, features and configurations will be necessary for your particular label application(s).
Is the equipment right for my operations? - Labeling equipment can vary on price, capabilities, physical size, required training, maintenance and more. Your production output, facilities and staff are important factors to consider when picking appropriate labeling equipment.
Shoppers are encouraged to use the guide before searching or contacting a supplier so they can better avoid buyer's remorse. "The guide is a valuable tool because it can answer questions and give customers a starting point for buying labeling equipment," added Carmany. Lastly, the guide is the newest addition to Consolidated Label's collection of resources so customers can find informative articles on a wide range of label topics noted Carmany.
To view the complete guide, visit http://www.consolidatedlabel.com/blog/2013/5/13/five-tips-for-buying-labeling-equipment/
About Consolidated Label:
Founded in 1981, Consolidated Label is one of the country's leading suppliers of custom labels, flexible packaging and shrink sleeves. The company produces custom labels and packaging for thousands of customers across a wide variety of industries including food, beverage, household cleaning, medical, pharmaceutical and promotional products.
For more information, visit http://www.consolidatedlabel.com