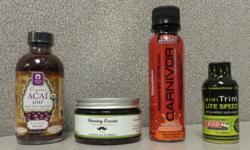 Longwood, FL (PRWEB) June 12, 2013
Consolidated Label Company, a leading manufacturer of custom labels in the United States, has published a report on nutraceutical label trends for 2013 to inform customers on the latest trends in the nutraceutical market and how custom labels will have a direct impact.
Over the last decade, the company has seen an increase in demand for nutraceutical labels and flexible packaging (such as packets, bar wrappers and flex sticks) due to the market's steady growth. "We print a variety of products for the nutraceutical market and our report is filled with information that can be useful for developing a labeling strategy or for better understanding nutraceutical product labels," says Joel Carmany, president of Consolidated Label.
The term "nutraceutical" is a combination of the words "nutrition" and "pharmaceutical" and is used to describe ingestible products that provide health benefits along with its basic nutritional value. Stronger demand for nutraceutical products has resulted in new market segmentation, product development and global competition resulting in an increase and diversification of nutraceutical labels.
Some important trends that Consolidated Label predicts will affect how companies are marketing its products and designing its nutraceutical labels include:

Senior citizens are living longer and the baby boomer generation is growing older.
High costs for health care is shifting consumers' attitudes towards health to be more preventive than curative.
Disappointment with traditional Western medicine has made many consumers skeptical of pharmaceutical drugs.
Alternative, organic, natural and holistic products are viewed more favorably and have risen in consumer demand.
Increases in disposable income are being seen across different demographics and within emerging market regions.
"It was important to us to share our research on the nutraceutical market and how it correlated to label production because there's a lot of growth happening on both ends," noted Carmany. Despite a positive outlook for nutraceutical labels, one of the biggest issues that nutraceutical companies face is government regulations on labeling standards. To learn more about labeling regulations and how it's impacting market trends, nutraceutical companies and consumers can read Consolidated Label's trend report now available on its blog.
To view the trend report, visit http://consolidatedlabel.com/blog/2013/6/4/label-growth-in-nutraceutical-industry/.
About Consolidated Label:
Founded in 1981, Consolidated Label is one of the country's leading suppliers of custom labels, flexible packaging and shrink sleeves. The company produces custom labels and packaging for thousands of customers across a wide variety of industries including food, beverage, household cleaning, medical, pharmaceutical and promotional products.
For more information, visit http://www.consolidatedlabel.com.