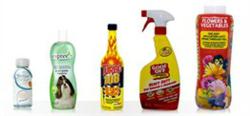 Longwood, FL (PRWEB) April 09, 2013
Consolidated Label Company, a leading manufacturer of custom labels in the United States, has published a free comprehensive guide on shrink sleeves designed for first time users and beginners. The guide includes information on the printing process, shrinking equipment, frequently asked questions and much more. It's the latest addition to the extensive collection of information on shrink sleeves currently available on Consolidated Label's website.
"We're constantly trying to add and improve information to our website and support section," said Joel Carmany, president of Consolidated Label. "The new guide, along with our videos, support articles and related blog posts, will help give our customers insight into whether shrink sleeves are right for their product before beginning the labeling process."
Coinciding with industry trends, Consolidated Label's production of shrink sleeves have steadily increased over the last several years making it one of the company's fastest growing segments. Some studies have shown shrink sleeves can increase sales by 20% over traditional labels which have prompted more companies to change their product's labeling. Due to shrink sleeves' rapid growth, Consolidated Label felt it was necessary to share its experience to help customers make better informed decisions so chances of error and waste occurring will be reduced.
"Our collection of shrink sleeve resources was created to give consumers a multitude of ways to learn about shrink sleeves to suit their individual learning styles," Carmany noted. Consolidated Label's shrink sleeve guide differs from other guides because it's written specifically for non-experts so they may improve the efficacy of their shrink sleeves. "The addition of the new guide is just a part of our ongoing efforts to provide a better quality of service for our customers," added Carmany.
To view the complete guide, visit http://www.consolidatedlabel.com/capabilities/shrink-sleeve-labels/
About Consolidated Label:
Founded in 1981, Consolidated Label is one of the country's leading suppliers of custom labels, flexible packaging and shrink sleeves. The company produces custom labels and packaging for thousands of customers across a wide variety of industries including food, beverage, household cleaning, medical, pharmaceutical and promotional products.
For more information, visit http://www.consolidatedlabel.com