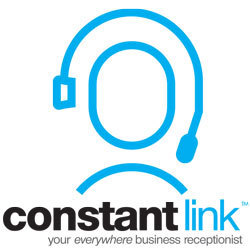 Meet your new receptionist! Welcome to Constant Link, the professional alternative to telephone answering services, call centers, and expensive traditional receptionists. At a fraction of the cost, our receptionists will professionally answer and screen
Parsippany, NJ (PRWEB) March 22, 2010
Constant Link announces its 7-Day Money Back Stimulus Package Guarantee Offer, intended to reduce costs and increase revenue for small businesses. Constant Link, "Your Everywhere Business Receptionist" offers small businesses, home-based or mobile business professionals and entrepreneurs, a way to successfully contend in today's ever-competitive small business environment. With its 7-Day Money Back Stimulus Package Guarantee offer, available only at http://www.constantlink.com, Constant Link Virtual Receptionist service provides the same professional image of a traditional Receptionist, but at a fraction of the cost… 24 hours a day, 7 days a week! And, with a professional, Live Receptionist answering their business lines, prospective customers are more likely to feel secure with conducting business than with a company that uses voice mail or old style answering services.
"Unlike an Answering Service, Constant Link Live Receptionist is a seamless extension of your business", states Principal Brian O'Mara, "with completely customized call answering, call screening, appointment scheduling, message taking, live call connection and call recording… so you NEVER miss that important call (or ANY calls) you've been waiting for . And, most importantly, you can take the call in real time from anywhere in the world at any time" The Company's web-based call control center, which can be viewed at http://www.constantlink.com/how-it-works, provides ultra-easy access to all call details and play- back wave recordings (optional), which can be instantly shared via email with anyone of your choosing.
"At Constant Link, our 24/7 Live Receptionist, sometimes referred to as a Remote Receptionist or a Virtual Receptionist, is never outsourced overseas where customers/callers may encounter a frustrating language barrier... Our Professional 24/7 Live Receptionists are located in the heart of America, where accents are non-existent", says Mr. O'Mara.
Principal, Steven Burns states, "We've learned that in today's competitive business environment, people are less likely to leave voice mail messages, and prefer to speak to a LIVE PERSON, who can help them with their needs…. He continues…. Have you ever been caught in a Voice Jail system that you simply can't get out of? In today's world, callers simply hang up and move on to the next business where a professional "real" person answers their business lines and can serve their needs."
For more information about running your business from anywhere in the world, reducing costs, increasing your professional image, never missing a call, and getting away from traditional Answering Services, visit http://www.constantlink.com or call 1-888-511-6101.
Media Contact:
Brian O'Mara /Constant Link, LLC
Tel: 1(888)511-6101
###