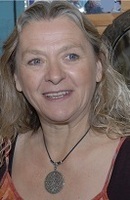 ... her listener is carried away to another land where clans fought for freedom from England and heroes with names like 'The Wallace' with his mighty sword, and 'Robert the Bruce' the future king of Scots, emerge." ~ Nancy McCarthy, The Daily Astorian
Seattle, WA (PRWEB) September 14, 2010
Did you know that the Declaration of Independence was based on a Scottish declaration against the English written in 1320? The origins of democracy are still being contested and Linda steps on this battlefield to contend that democracy really began in Scotland. The Warriors & Wordsmiths of Freedom: The Birth and Growth of Democracy shows key phrases from Scotland's 14th century Declaration of Arbroath that are repeated in the America's Declaration of Independence. She also argues that Scotland's King Robert the Bruce was the first ruler in history to be placed in power using a system recognizable today as modern democracy.
Nearly half the men who signed the U.S. Declaration of Independence were of Scottish descent, as were governors of nine of America's 13 founding colonies and George Washington's first four cabinet appointments. Many of the freedoms and ideals Americans claim as our own come to us courtesy of the Scots who battled the British on U.S. soil and helped found our modern democracy. Learn more about the Celtic link between our two countries when historian, storyteller and poet Linda MacDonald-Lewis tours the Seattle area during September's U.S. Constitution Week to discuss her research and book.
On U.S. Constitution Day, September 17th, Linda will be the featured speaker at The Caledonian & St. Andrew's Society of Seattle's clan gathering at 7 p.m. Bagpiper Don Scobie will convene the gathering at Lake City Presbyterian which is free and open to all.
The following day, Saturday the 18th, Linda will give a more traditional book reading and talk at Third Place Books in Lake Forest Park at 5 p.m. She will be appearing with bagpiper Don Scobie & dancer Maggie King-Cate.
Sunday the 19th, you can cozy up in the Sorrento Hotel's Fireside Room and enjoy Linda's history lesson while sipping a selection of whiskey chosen specially for the evening. The ticketed event ($30) is being co-sponsored by the Elliott Bay Book Company and includes a personalized copy of The Warriors & Wordsmiths of Freedom and the whiskey tasting.
Says Linda, "The connections between our two countries are not only an essential part of American democracy, but part of the freedoms modern Americans sometimes take for granted."
###