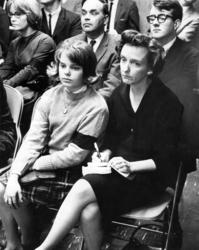 "We are thrilled and honored by the National Constitution Center's invitation to include the Tinker Tour in their Constitution Day program! What a wonderful place and an exciting way to kick things off."
- Mary Beth Tinker
Philadelphia, PA (PRWEB) April 25, 2013
Two days after student free speech icon Mary Beth Tinker launched a campaign to fund a nationwide civics education bus tour, the National Constitution Center today announced it has invited her to launch the "Tinker Tour" on Constitution Day and park her bus steps away from Independence Hall and the Liberty Bell in Philadelphia.
"We are thrilled and honored by the National Constitution Center's invitation to include the Tinker Tour in their Constitution Day program! What a wonderful place and an exciting way to kick things off," Tinker said. "Of course, we still need to raise the money for that bus — or find someone willing to let us borrow a nice, reliable RV for a few months. We promise to have it back to them by summer!"
Tinker is now a pediatrics nurse, but speaks frequently with students about her case — a landmark 1969 U.S. Supreme Court ruling that is still cited in nearly every student First Amendment case, as well as most American civics and history textbooks. Along with First Amendment and student rights attorney Mike Hiestand, they are looking to boost civics education awareness and promote youth voices, free speech and a free press by visiting schools and colleges across the country during the 2013-14 school year.
Tinker and Hiestand are hoping to raise at least $50,000, which would fund a fall tour through their StartSomeGood campaign. Their final goal is $115,000, which would support a five-to-six month school-year tour. Ideally, Tinker said, they would love to find an individual or organization willing to donate a reliable bus or RV that they can borrow during the non-summer months of their tour.
Donations are being coordinated through the Student Press Law Center (SPLC), a nonprofit, nonpartisan organization with nearly four decades of experience supporting youth voices. The SPLC has agreed to make the tour one of its special projects, helping with tour logistics and collecting funds under their 501(c)(3) umbrella, which will make donations to the tour tax-deductible.
Constitution Day this year is Tuesday, Sept. 17 and is traditionally the National Constitution Center's busiest day of the year with several thousand students and teachers visiting the Center and nearby landmarks and more than a million more students across the country tuning into the Center's commercial-free webcast Constitution Day Hall Pass.
"Mary Beth Tinker fought for the right of students to respectfully express their personal views in public school," said National Constitution Center Vice President of Visitor Experience & Education Kerry Sautner. "By expressing her First Amendment rights, she inspired future students to become civically engaged, which is at the heart of what we do here at the National Constitution Center. We are thrilled to have been chosen as the site to launch the Tinker Tour on Constitution Day."
Tinker says they have already received nearly 100 invitations through their Web site to speak at schools and conventions during the 2013-14 school year. They have also lined up endorsements from more than two dozen of the country's leading civics education, civil rights and journalism education and journalism groups.
Ms. Tinker and Mr. Hiestand can be reached for interviews through the tour's Web site or by e-mail at: tinkertour (at) gmail (dot) com
About the National Constitution Center
The National Constitution Center is the first and only nonprofit, nonpartisan institution devoted to the most powerful vision of freedom ever expressed: the U.S. Constitution.
Located on Independence Mall in Historic Philadelphia, the birthplace of American freedom, the Center illuminates constitutional ideals and inspires active citizenship through a state-of-the-art museum experience, including hundreds of interactive exhibits, films and rare artifacts; must-see feature exhibitions; the internationally acclaimed, 360-degree theatrical production Freedom Rising; and the iconic Signers' Hall, where visitors can sign the Constitution alongside 42 life-size, bronze statues of the Founding Fathers.
As America's forum for constitutional dialogue, the Center engages diverse, distinguished leaders of government, public policy, journalism and scholarship in timely public discussions and debates. The Center also houses the Annenberg Center for Education and Outreach, the national hub for constitutional education, which offers cutting-edge civic learning resources both onsite and online. Freedom is calling. Celebrate it during the Center's 10-year anniversary in 2013. For more information, call 215.409.6700 or visit constitutioncenter.org.