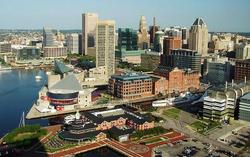 Elkridge, MD (PRWEB) August 31, 2009
BidClerk, the Construction Industry Search Engine, reported today that the following building projects are planning to go out for bids or start construction in the next 90 days in the Baltimore, MD Metro Area. Businesses interested in providing services relative to these projects should visit http://www.BidClerk.com and reference the Project ID listed below to obtain direct contact information for each job:
Baltimore, MD - Johns Hopkins Bayview Campus, 301 Mason Lord Dr., 70,000-square-foot medical tenant improvement, October 2009, $5 million. Project ID : 1047862
Baltimore, MD - Kol Torah Synagogue, 3209 Fallstaff Road, 9,500-square-foot religious renovation, October 2009, $700,000. Project ID : 1037140
Baltimore, MD - Waldorf School of Baltimore - Children's Garden, 4801 Tamarind Road, day care center renovation, November 2009, $500,000. Project ID : 1052331
Baltimore, MD - Clarkson Street Residences, 1406, 1710 and 1416 Clarkson St., interior renovation of three single-family homes, August 2009, $200,000. Project ID : 1025643
Baltimore, MD - Wayland Village Senior Housing, 3020-3026 Garrison Blvd. and 3801 and 3803 Bonner Road, 90 senior housing units, November 2009, $7 million. Project ID : 1006325
About BidClerk.com
BidClerk.com is the only Search Engine dedicated to providing businesses with in depth information on thousands of construction projects coming up for bid all throughout the United States. Our daily updates of commercial and residential construction projects are available to contractors and businesses in related industries that are seeking bid opportunities. For more information on bidding construction projects in your area, visit BidClerk online or call 877-737-6482.
###